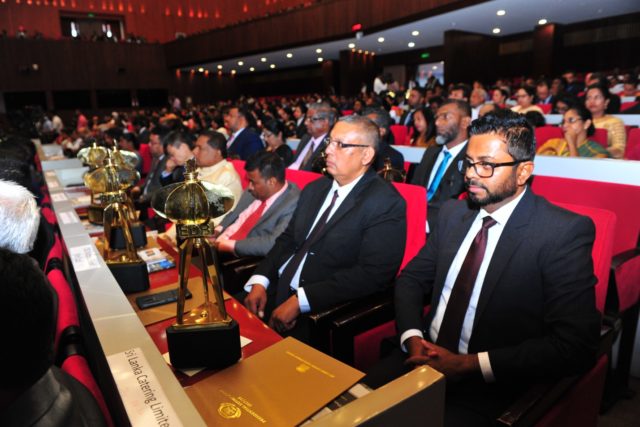 The 22nd Presidential Export Awards Ceremony (PEA) was held to celebrate the outstanding achievements of the Exporters at the Bandaranaike Memorial International Conference Hall (BMICH) in Colombo, on September 18, 2018,

In total, 58 awards were presented during the ceremony including 11 Overall awards, 38 Sectoral Awards for Highest Foreign Exchange Earners, and 09 for Emerging Exporters. MAS Holdings (Pvt) Ltd won overall award for  the" Exporting Conglomerate of the Year" which was introduced for the first time to appreciate and celebrate export excellence by a Sri Lankan Conglomerate at the Presidential Export Awards 2018 and MAS Intimates (Pvt) Ltd won this year's "Exporter of the Year" overall award.
 The selections for the awards were done by an eminent Panel of Judges headed by a retired Judge of the Supreme Court of Sri Lanka. The panel comprised of Senior Officials from the Ministry of Development Strategies & International Trade, the Department of Commerce, Ceylon Chamber of Commerce (CCC), Federation of Chambers of Commerce and Industry of Sri Lanka (FCCISL), National Chamber of Exporters (NCE) and the National Chamber of Commerce of Sri Lanka (NCCSL).
 Presidential Export Awards  2017/18
Overall Awards  ( 11 Nos.) Presented By His Excellency President of Sri Lanka
Description of Special Award             Winner
Woman Exporter of the Year           Senikma Holdings (Pvt) Ltd
Contributor to Sustainable              Brandix Apparel Limited
Development in Exports  Development in Exports
Contributor from the Regions to the Export Supply Chain MAS Intimates (Pvt) Ltd
Employment Provider in the Export Industry  Brandix Apparel Limited
Sri Lankan Export Brand       Akbar Brothers (Pvt) Ltd
Market Diversified Exporter        Camso Loadstar (Pvt) Ltd
Net Foreign Exchange Earner     MAS Intimates (Pvt) Ltd
Most Globally Outreached Sri Lankan Brand   Dilmah Ceylon Tea Company PLC
Globally Operated Highest Foreign Exchange Earner            Brandix Apparel Limited
Exporter of the Year          MAS Intimates (Pvt) Ltd
Exporting Conglomerate of the Year MAS Holdings (Pvt) Ltd
Presidential Export Awards  2017/18                                 
Award Winners – Highest Foreign Exchange Earner     
Product Sector           Winner                 
Electronics & Electrical Products  CCS Lanka (Pvt) Ltd
Light Engineering     Asiabike Industrial Limited
Plastic Products     Aqua Packaging (Pvt) Ltd
Packaging, Printing & Stationery Nithya Paper & Boards Lanka (Pvt) Ltd
Footwear       MAS Fabrics (Pvt) Ltd
Textile         ISIN Lanka (Pvt) Ltd
Fish & Fisheries  John  Sea Foods (Pvt) Ltd
Ornamental Fish   Orna Fish (Pvt) Ltd
Boat Building  Neil Fernando & Co. (Pvt) Ltd
Ship Building   Colombo Dockyard PLC
Logistic Services   Expolanka Freight (Pvt) Ltd
Entrepot Trade    Camso Trading (Pvt) Ltd
Tea               Akbar Brothers (Pvt) Ltd
Rubber Based Products       Camso Loadstar (Pvt) Ltd
Spices & Concentrates  Samagi Spice Exports (Pvt) Ltd
Coconut kernel Products    Nestle Lanka PLC
Coconut Non-kernel Products Jacobi Carbons Lanka (Pvt) Ltd
Fruits & Vegetables    Dole Lanka (Pvt) Ltd
Floriculture     Tropiflora (Pvt) Ltd
Gems   Natural Sapphires Ceylon (Pvt) Ltd
Jewellery         Renelle (Pvt) Ltd
Diamond         Diamond Cutters Limited
Ceramic, Porcelain & Glass Based Products  Piramal Glass Ceylon PLC
Chemical & Paints Products   S & D Chemicals (Pvt) Ltd
Wooden Products   D. R. Exports (Pvt) Ltd  (DAMRO)
Leather Products  Lanka Leather Fashion (Pvt) Ltd
Apparel  MAS Intimates (Pvt) Ltd
ICT       Virtusa (Pvt) Ltd
BPM/KPM       WNS Global Services (Pvt) Ltd
Construction Services Sanken Overseas (Pvt) Ltd
Hi-tech & Innovative Products  Camso Loadstar (Pvt) Ltd
Processed Food & Beverages     Sri Lankan Catering Limited
Herbal & Spa Products  Link Natural Products (Pvt) Ltd
Wellness Services Barberyn Reef Ayurveda Resort Hospital (Pvt) Ltd
Organic Products    CBL Natural Foods (Pvt) Ltd
Handloom Products    Barbara Sansoni Exports (Pvt) Ltd
Toys        Paradise Toys (Pvt) Ltd
Crafts & Lifestyle   Nienhuis Asia (Pvt) Ltd
Presidential Export Awards  2017/18
Award Winners –     Emerging Exporter Sector Winner
Apparel         Rich Light Exports (Pvt) Ltd
Tea                Ceylon Tea Export
Coconut kernel Products       Senikma Holdings (Pvt) Ltd
Coconut Non-kernel Products   Lanktrad International (Pvt) Ltd
Electronics & Electrical Products   V S Turbo (Pvt) Ltd
Gems                         Ceylon Fine Gems (Pvt) Ltd
Fish & Fisheries           Quality Food Exporters (Pvt) Ltd
Light Engineering           Creative Cycles (Pvt) Ltd
Spices & Concentrates       Nihal Shantha & Sons