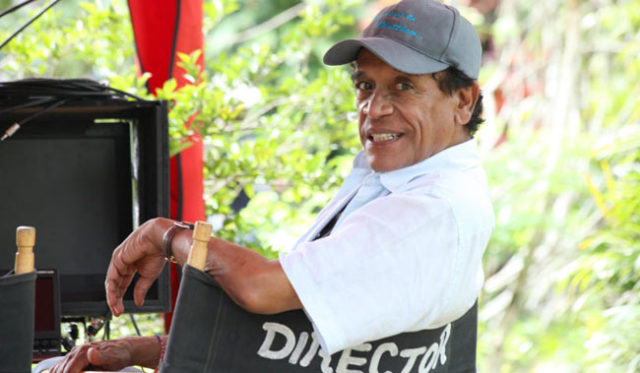 By Sureshni Pilapitiya
Legendary Film Director Chandran Rutnam needs no introduction to those who are in the industry and ardent moviegoers. As an internationally acclaimed film maker, and also a producer and one of the veterans in the industry, his works reach far beyond Sri Lanka, gaining high praise from international film makers in the likes of Steven Spielberg, George Lucas, John Derek, etc. He has directed many international and local award winning films such as ''Janelaya'' , ''Theertha Yaathra'', including international releases such as The Road from Elephant Pass'', ''A common man'', ''Sri Siddhartha Gautama'', ''Solar Eclipse'' joined by his latest release ''According to Maththew'' which is based on a controversial theme of a true incident. He was  also the line supervisor in several international productions including the Sri Lankan location shoot of Paramount pictures '''Indiana Jones, ''Temple of doom'' and ''Indochine ''.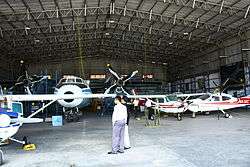 As a child,Chandran always loved to watch films, which was the only mode of entertainment, apart from the radio at that time. He came from an artistic family, where his mother was the sister of Donald Wijerathne, owner of Donalds Studio, and all members on his maternal side had been photographers for generations. Obviously, artistic talent ran through his blood. His parents were very encouraging, and Rutnam considers himself as being a very lucky person to have such parents and also going to one of the best schools of that time- St. Thomas' College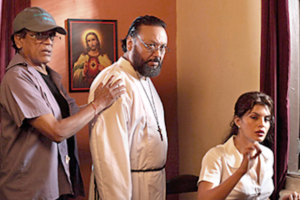 Guruthalawa. At the age of seventeen, he went to US to pursue  his dream of becoming a film maker. Before that he got a job in the film " Bridge on the River Kwaii", which was one of  the turning points  of his life. His whole idea was to learn everything and come back to Sri Lanka and open his own studio. Although he lived in the States for many years, he was  still very Sri Lankan and does not want to give up his identity. But for him, America was an amazing country – it gave him so much to bring back home.
As a successful film maker and currently holding the positions of President and CEO of Asian Film Locations Services, Asian Aviation Centre, and the Chief Consultant at Selvasingham Consultants,this cinema veteran joined us to have an interesting discussion to talk about his latest film, his career, his love for aviation and motion pictures, aspirations and the Cinema industry in general.
Excerpts:
Q: You released the film ''According to Matthew'' recently. Please tell us about it.
A:  Well, I did not release it as yet. Because we had some issues and objections from various quarters which I have resolved now, and the picture will be released in end of September in Sri Lanka , America and other places, after October of this year.
Q: What was the response from the Sri Lankan audience?
A :The only screening we had was a preview, almost an year ago and it was kind of a positive response, and  the people seemed to like it. But then, they were invitees, I would actually like to see the reaction of the people who pay to get in!!I also showed it in Australia and got a very good reception there,but now we are ready to go forward and release it in September or October.
 Q :How would you see the Cinema industry in Sri Lanka then and now ?
 A:   very good question. In my generation, it cost a lot of money to make a film. If I remember correctly, a400 foot reel of negatives cost Rs. 25,000.How can a young man get 10 reels for Rs.25,000 ?so the sad part about my generation is, there was a lot of unknown talent that we didn't even get a chance, not even discovered,bloomed,that died away unknowingly. We don't know how many talented people who never blossomed.At this time, it's completely different.You can show your talent by using a telephone as a camera. You can demonstrate your talents .With the new technology it's much easier to produce and say ''this is what I can do ''. But in my generation we could not do that. It was too expensive for us to experiment and show what they could do.So the industry all over the world is much better, lot of talent emerging. Recently I visited an academy, where I was the chief guest, and I could not believe their talent.You know, these are all talented people.They are as good as Hollywood. We just have not given them the opportunity. They are full of enthusiasm, and I intend to make use of their talent. Also I must mention, if you visit Disney studios or any of the studios that does animation, you'll find a lot of the people there are Asians. So they are using us. Why don't we use ourselves?  I think we 've got to think on those terms, and be very aggressive and have confidence in ourselves, because we are as good as everybody else or even better. So to answer your question, I think the Industry today is very positive and it should grow and grow, much better than before.
Q  : As the chairman of Film Location services, why do you think foreign film makers are interested in selecting Sri Lankan locations ?
A :God has given us a most beautiful country in the  world. And I would say god has given us this beautiful country and has put it at smack in  the center of the world.When you say ''pearl of the Indian ocean'' that is not enough.This is  the jewel of the world. We have beautiful locations.I have been bringing film makers since 1980 to Sri Lanka.But also  remember that the location also must conformed to go with the story.But we have gone even further,we have made Sri Lanka look like India,likeVietnam,like New York. But I think the main attraction here is the beauty of the country,beautiful locations, and also we have a very good  technical force. They have been into international films and have learnt a lot,and are technically experienced.They are technically advanced and can compete with anybody in the world.
Q : As a location provider , What are the best locations you have seen in Sri Lanka ?
A : Well it's not about the best, the beautiful locations and the beaches, but why would they want to come. If they want to show the beaches they can go to Hawai.We have other locations.Lush rainorests.The ancient colonial buildings.They shot a lot of movies in the hill country.Indiana Jones was shot in Kandy.Tarzan was shot in Kandy.So we have a lot to offer, and the colonial architecture of our county is very attractive to film makers. And also like I said, the experienced technical staff.
Q : Will this enhance the tourism sector in Sri Lanka, in order to bring more revenue and be recognized internationally as a tourism hotspot ,and as a compact destination?
A :Film making is the most powerful medium. Our country has not accepted that fact.I'll tell you one instance.In 1956 they made a movie called ''the bridge on the river kwaii''.It won 8 academy awards,andits one of the most famous movies ever made.On every ten ''best'' list you'll see bridge on the river kwaii.AndIwould say, ''build that bridge again''.Tourists will come and see it.Today there's a little sign in Kitulgala  with an arrow saying ''bridge on the river kwai''. And when they go there they see two holes where the bridge was.Come on, this bridge is not difficult to build.It was made out of wood. If we built that bridge, they would all come here. Instead they all go to Thailand, because the original bridge is there.But they are n interested in the original bridge, because they want to see the bridge which they saw in the movie .Around that bridge, there's an entire tourist industry.Now, films made in New Zealand , the locations are big tourist attractions.Films made in Switzerland . all Indians go to Switzerland to see where Sharukh Khan and Deepika Padukone danced and pranced. So, why not us? I have been trying to tell this idea for more than 50 years.But now, I have got active again and I'm going to build the Indiana Jones bridge.We're going to rebuild it and have a package to see that and also we are going to have an Indiana Jones exhibit and I'm going to have a package called ''follow the trail of Indiana Jones to Sri Lanka''. People don't understand or realize the power of the film industry.
Q: Do you think film tourism has been recognized in Sri Lanka?
A :  Not at all.It has not been recognized in Sri Lanka,and I have been barking on it for 50 years, and now people are listening,and if they allow us to build this bridge and make it a tourist attraction,it'll be great.And even now,you can build a bridge in Kitulgala.It's still a phenomenal thing.People go there.They heard that this is being done in Sri Lanka,and they'll sign there,andexperience.Main thing is it's a beautiful place,andKitulgala is also beautiful.You have to make use of these things.God is giving us all these things and we are not utilizing these things.It's a shame.
Q :What made you take into Aviation industry and how do you see the progress Asian Aviation Centre has made throughout the years ?
A : We have a private training school for over 30 years.And an aerospace engineering college affiliated to the Kingston University,and it's doing very well, and now we're going to start our airline again.We had Lion Air during the roughest times,we were the only contact to Jaffana.There was no other mode of transportation, except Lion Air from Colombo to Jaffana.We provided a service for those who wanted to visit Jaffna during the war. Unfortunately, our plane was shot down and we had to close that part of it down,. But now that tourism is booming, we're planning on starting the airline again. I'm not sure what it will be called , but before the end of this year, we'll be having another scheduled air line.