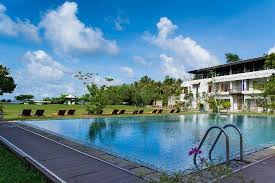 If you are interested in spending your vacation which will entail pristine blue waters and golden sandy beaches, the perfect getaway will be Amaloh, a beautifully designed boutique hotel situated not too far away from Matara, an important tourist destination in the South of Sri Lanka.
Matara is the ending point of Sri Lanka in the South and has a bearing of 160 km away from Colombo. Although it is the magnificent city of Galle that is heavily associated with the Colonial touch, a lesser known fact is that Matara got its name by the Portuguese who used to call it "Maturai", which meant 'great fortress'. Matara, even though not a popular traveler destination, is home to numerous attractions, and is gaining popularity among beach lovers.
Amaloh by Jetwing is in every aspect reminiscent of all Jetwing properties being the home of Sri Lankan hospitality and has  20 luxurious rooms in view of the mesmerizsing waters taking on shades of blue. Its serene and secluded surrounding makes it the ideal home for family holidays. The design has elements of a unique colonial touch, which echoes the historical setting of the city. The rooms feature air conditioning, luxury rain shower with hot and cold water, mini bar, safety lockers, bathtub or Jacuzzis and many more room facilities upon request.
Dining at Amaloh by Jetwing will flatter your palate with the experienced chef catering to your every food delights. The culinary expertise of the chef will look into personalized cuisine at the main restaurant or more interestingly in the form of beach dining or garden dining. Further, the pool bar and rooftop bar are the perfect places to watch the sunset in the Indian Ocean, while enjoying a casual chat with your loved ones.
While you may relax in style in the inviting pool, if you are an ardent fan of the beach the Polhena beach is walking distance from the hotel property. The Polhena beach is a form of pool in itself with the coral reef demarking the shallow end of the waters. If you are feeling adventurous this is the ideal beach to go snorkeling, and engage in many water sports including kayaking and riding jet skis.
There's no doubt that Amaloh by Jetwing will simply take your breath away with its peaceful ambience with a hint of adventure in store. Book your rooms now with the Room Rush offer in play from April to June bringing a 30% discount on the room rates. Don't miss out on the opportunity of experiencing your very own heaven, at the best rate possible!