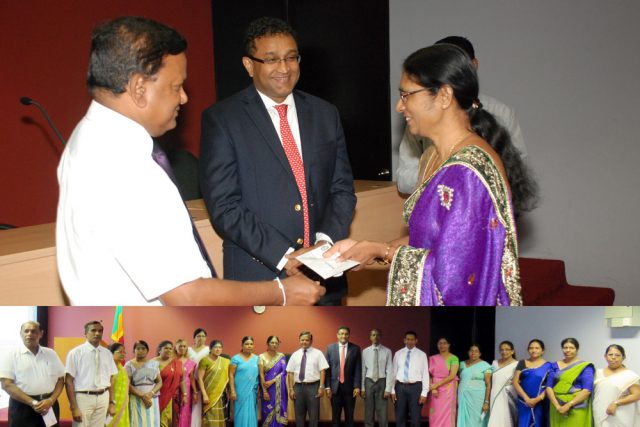 A special felicitation ceremony to mark the 40th anniversary of the Board of Investment of Sri Lanka was held at the BOI auditorium recently. The main highlight of this ceremony was to felicitate the long standing employees of the BOI by providing them with a token of appreciation. Mr Upul Jayasuriya, Chairman of the BOI formally presented the prizes to 20 long standing employees who are working at different Departments and Export Processing Zones. Mr Duminda Ariyasinghe, Director General of BOI and the senior staff members of BOI also participated at this function.
Addressing at this function Mr Upul Jayasuriya, spoke of his long association with the BOI having contributed in formulating the GCEC Act as a young lawyer by assisting the late Paul Perera who was one of the pioneer Director Generals. He thanked the employees who have made an immense contribution to make the BOI the engine of growth of the country.
The BOI was established in 1978 as the Greater Colombo Economic Commission. In 1992, the Commission was reconstituted as the Board of investment of Sri Lanka. The BOI is the investment promotion agency of the Government of Sri Lanka and Its main functions is to attract foreign and domestic investment into the economy with the objective of bringing in capital, creating job opportunities and encouraging the development of new skills.
BOI owns and manages 12 Export Processing Zones around the Island with large and modern facilities. In these zones entrepreneurs are able to set up industrial plants and factories and at the same time enjoy the facilities provided by the zones such as water supply, telecommunications and power etc.
The Board has played an important role in transforming Sri Lanka from a rural and plantation based economy to an industrial and services based economy. BOI companies play a significant role in the national economy representing almost 60% – 65% of the country's exports and almost 75% of her industrial exports. The BOI has been an agent of economic change for Sri Lanka and a window to the world.
(Courtesy : Media Department Board of Investment of Sri Lanka)