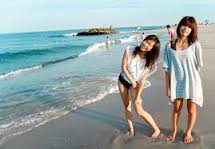 China for the first time has  taken the number one spot and outnumbered visitors from India who had been leading with the most number of tourist arrivals
According to statistics released by the Tourism Promotion Bureau the number of Chinese tourists, including those from Hong Kong and Macau, rose from 17.4 percent to 32,186 in February compared to the 26,083 who arrived in January.
Minister of Tourism John Amaratunga who will lead a delegation to China in May to launch a mega promotional campaign to promote Sri Lanka Tourism, said that Sri Lanka was expecting a heavy influx of Chinese tourist this year
During the visit the minister is also expected to hold discussions with the Chinese Tourism Minister and extend an invitation to visit the island nation.
Meanwhile tourist arrivals and revenue hit record high of 1.79 million in 2015 up by 18 percent, while earnings from tourism increased to $ 2.43 billion in 2014. The Government has targeted 2.2 million visitors this year.