The dawn of 2018 was heralded with the arrival of Costa Neo Classica,the luxurious passenger vessal at the Colombo Habour on Jan 2nd, carrying 800 high spending tourists from Italy, Germany, Russia, France and India. The importance of cruise tourism for the rapid development of Sri Lanka's tourism was highlighted with arrival of this vessal of 722 feet long and weighing 52950tons. The vessel belongs to Costa Cruises.
Built in 1991, the passenger vessel is capable of carrying 1304 to 1420 members, adorned with facilities such as 4 restaurants,11 bars, 3 swimming pools,Gym,Spa, Beauty salon, and Sports Courts. Further, guests are assured of being entertained with a theater, Casino, Night Club, Library and a Disco,including additional facilities such as the Viceroy wedding venue, Art gallery, medical center, laundry, and Piccadilly shops.
The visitors of Costa Neo Classica  received an opportunity to experience Sri Lankan culture, vivid diversity of locations, and attractions such as Pinnawala Elephant Orphanage,Bentota, Hikkaduwa, Negombo, Tea Plantations, Temple of the sacred Tooth Relic Kandy, Mount Lavinia Beach, Colombo City attractions and shopping in Colombo. Sri Lanka has a wide variety of exclusive must see attractions for tourists and also as a safe travel destination for any traveler or tourist. The visitors gained an extensive knowledge about Sri Lanka as a compact island which can be explored within a few days by the travel brochures which were issued free by the Tourist Information Centre officials of the Sri Lanka Tourism Promotion Bureau.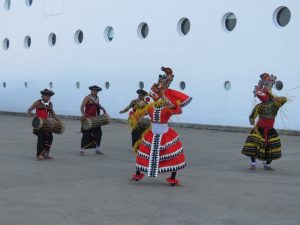 In the year 2017, 37 passenger vessels made their stop overs in Sri Lanka and they were able to have a different experience by watching the cultural dance performances and the vivid diversity of locations and tourist attractions. High profile passenger vessels such  as Aurora, Norwegian Star, Queen Elizabeth, Celebrity Constellation, Queen Mary 2 and Costa Neo Romantica, reputed for their upto standard luxury and comfort, were included in the list. These cruises include high spending tourists who like to have an experience worth their high expenditure and they find Sri Lanka as a compact destination to spend their ideal holiday experience.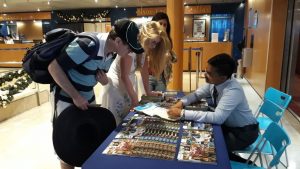 Sri Lanka Tourism Promotion Bureau (SLTB) has taken the initiative to welcome these cruise lines and create more awareness about Sri Lanka and its cultural and geographical diversity, and showcase its importance of having 4 natural harbors. Sri Lanka's harbours are reputed for their easy accessibility and as convenient stop overs for the tradesmen and sailors across the ancient silk road.  SLTPB has also taken measures to highlight the cultural glamour by welcoming each vessel by featuring traditional dance performances which gives the visitors an entertainment experience which they never had before.
The Sri Lankan Shipping Line which brought this passenger vessel was Aitken Spence Shipping (Pvt) Ltd, while the ground handling was carried out by Exotic Holidays International (Pvt) Ltd. Sri Lanka has a rapid growth in the tourism sector and cruise tourism is a new segment which is under rapid progress, adding a new dimension towards Sri Lanka's Tourism sector.
(Courtesy : Sri Lanka Tourism Promotion Bureau)