If you are interested in experiencing some of the important historical ruins of Sri Lanka you will have to explore the sea around the island.One area rich in epithets linked to Sri Lankan history can be found beneath the sea in Trincomalee Traprobane Divers who have the experience and wearwithall in scuba diving will help you to achieve this unenviable exploration.
Koneswaram temple one of the most ancient and holy Shiva shrines in Sri Lanka and built on top of Swami Rock overlooking the town of Trincomalee is one of the sites prominently attracted to tourists who seek to explore the lost heritage of Sri Lanka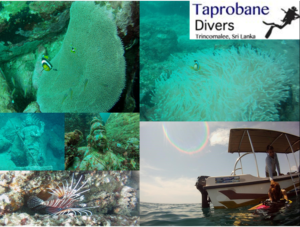 therwise known as the temple of thousand pillars is arguably one of the richest and most visited temple compounds in Asia withover 2000 years of history (recorded history dates from the third century BC) the primary deity is the Hindu God  Lord Shiva in the form of Konesar.
However between 1622 and 1624, the temple was destroyed by the Portuguese with many items pushed into the sea and gold, pearls, precious stones and silks collected for more than 1000 years removed.  Temple stones and its carved pillars were also used to construct Fort Fredrick to strengthen defenses against other European armies. Only from the early 19th century under British rule, were pilgrims able to return, with numbers increasing over the decades.
In 1950, when a well was being dug 500 yards from the site, the temple's original gold and copper alloy bronze statues from the 10th century were found.  Just a few years later in 1956, the famous Arthur C Clarke uncovered underwater masonry, architectural and idol images of the original temple.  In his 1957 book 'the Reefs of Taprobane', Clarke identified at least 3 Hindu temples as having been build on or around Swami rock over the millennia.  At that time, he said they were probably the most photographed underwater ruins in the world.
And now those underwater ruins are open for all to view and experience.  Trips are available through Taprobane Divers (www.taprobanedivers.com) and if you are new to scuba diving, certification courses are also available.
Once you've finished your underwater exploring, you can then visit the temple as it stands today having been rebuilt in 1963.  The area also offers a magnificent view of the surrounding sea and just a few meters from the entrance to the temple, you can also see the famous 'Lover's Leap'- but that's another story!