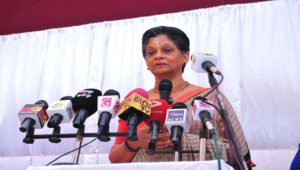 With objective of encouraging exporters and export oriented entrepreneurs in the Northern Province the Export Development Board (EDB) opened a provincial office at NHDA Building Secretariat, Forest Office Lane, Chundikkuli, in Jaffna recently.
Keeping in line with the government's economic vision to transform Sri Lanka into a vibrant and prosperous nation through export led growth, the Sri Lanka Export Development Board EDB under the auspices of the Ministry of Development Strategies and International Trade is implementing a National Programme to nurture 2000 new entrepreneurs to become exporters during the year 2017-2020.
The main objective of this programme is to encourage domestic enterprises to invest in export industries, facilitate   regional base entrepreneurs to explore new business opportunities and set up or develop enterprises to enter into the Global Market through a systematic approach and to contribute   to achieve the national export target of US$ 22 Billion in 2020.
In order to achieve the objective, it is essential to identify entrepreneurs who are suitable and interested to join the programme, identify their needs through a Need Analysis and prepare individual Business Development   plans to develop them as exporters with the assistance of Public and Private sector Stakeholders.
The launch of the programme and the first awareness programme was held in Jaffna on the 23rd March 2017 with the participation of over 250 Entrepreneurs.  An Export Products Exhibition and Business Clinics were held parallel to the Seminar.  Around 143 entrepreneurs participated at the Business Clinics and around 100 issues were resolved. Based on the availability of human & physical resources in the province, the EDB identified processed food, life style, fisheries & ICT/BPM as most potential sectors in the Northern Province for development for export.
As a follow up to the above programme, a meeting was held with Senior Government Officials of Northern Province to discuss the possibility of obtaining their assistance for future export development activities planned to be carried out during the period 2018-2020. In addition there was a meeting with business leaders in Northern Province to create awareness on opportunities of the export sectors and to make aware assistance and facilities provided by the government organizations for the export industry with a view to attracting them to venture into the export industries.
Parallel to these activities a workshop to develop business plans was be held at Public Library Auditorium  in Jaffna for the benefit of 35 entrepreneurs who have been registered under the 2000 New Exporter Development Programme of the EDB launched in 2017.