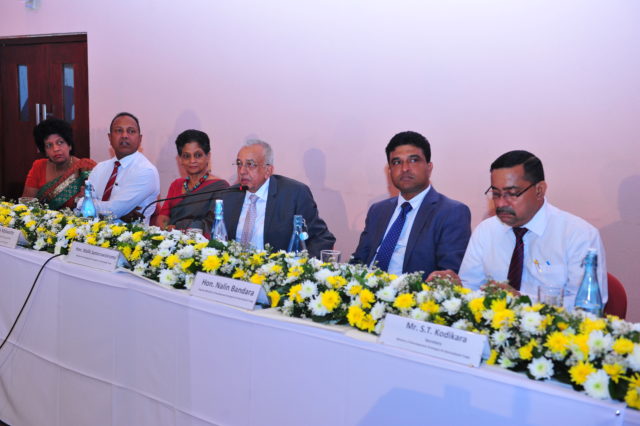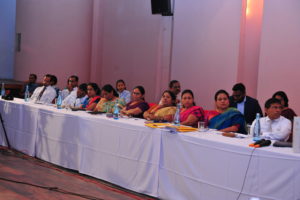 Chairperson of the Export Development Board Mrs.Indira Malwatta announced that it was a proud moment for the EDB for the achievement of earning $ 17 billion of the targeted $17.4 billion in export revenue for the year 2018. She further said that with the service sector statistics by the of this month EDB was hopeful of achieving the full amount.
The chairperson also expressed confidence in achieving $20 billion export revenue by the end of this year."It is an ambitious and demanding target, but with the backing of the private sector and favourable business environment we will be able to achieve it " She added.
Mrs Malwatta expressed these views at a media networking event held at the EDB Auditorium to announce the achievements of EDB in 2018 and  also to announce the action plan for 2019
Congratulating Sri Lankan exporters for their achievement last year,despite various impediments in the global market, she further said that this had been a combined effort of the government and private sector and also stressed that the EDB wanted to set a high target and work hard.
 Development strategies  and International Trade Minister Malik Samarawickrama who participated in the event, said that despite missing the $17.4 billion original target last year's performance was still noteworthy and he went onto reiterate the government's commitment to support  all initiatives started and planned for this year.
"Last year was a landmark year for Sri Lanka's export sector. We launched a 5-year National Export Strategy (NES), following extensive analysis and consultations with the industry. We have set out a clear agenda for action, and it is now being implemented with the support of line Ministries. We are encouraging more people to be export champions and these will see the real impact on the ground," Minister  added.
The minister also thanked the exporters, export trade chambers and officials of the EDB for being resilient during the crisis to achieve the highest ever export earnings Sri Lanka has recorded to date
Deputy Minister of Development Strategies and International Trade Mr.Nalin Bandara, Director General EDB Mrs.Jeewani Siriwardena, Additional Director General/Development EDB Mr.Dammika Jayawardena, Director Policy Planning EDB Mrs.Dayani Wegapitiya, Vice Chairman of Exporters Association of Sri Lanka Mr.Chrisso De Mel and several leading exporters also participated in the event.