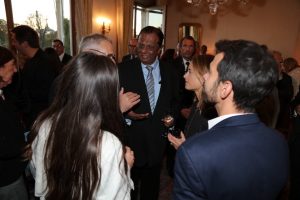 Sri Lanka is an island of all possibilities: relaxation on the beaches of white sands, water sports, trekking, walks in the green tea plantations, even incredible safaris to meet elephants or leopards  etc, said Minister of Tourism Development and Christian Affairs, John Ameratunga, at a high profile press conference held at the " "members only" Cercle d I'Union Interalliee at rue du Foubourg St-Honore, in Paris, France recently.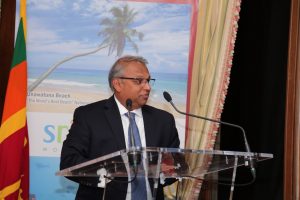 Ministry of Tourism Development & Christian Religious Affairs & Sri Lanka Tourism Promotion Bureau invited premium media, travel evangelists and highly sought after travel influences from France for this press conference held under the patronage of the Minister, John Amaratunga, Mr.Buddhi Athauda, Ambassador of Sri Lanka in France, Mr. Sutheash Balasubramaniam, Managing Director of Sri Lanka Tourism and other official representatives from Sri Lanka and France.
The Minister also said that Sri Lanka was becoming one of the leading destinations for French travelers with arrivals from France surging to 81,000 up to August this year and expected to cross 100,000 mark for the first time in the history before end of 2018.
Mr. Buddhi Athauda, Ambassador of Sri Lanka in France addressing the media ensured that the Embassy of France is fully geared to support the tourism promotions and highlighted the country's various facets which tourists can explore and experience.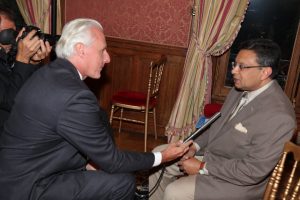 Managing Director of Sri Lanka Tourism Mr. Sutheash Balasubramaniam, made a fully-fledged presentation of destination Sri Lanka to the French media at the event highlighting all products and experiences the country has to offer to avid travelers.
The delegation also took time to respond to questions raised by the media at the end of the event on various topics.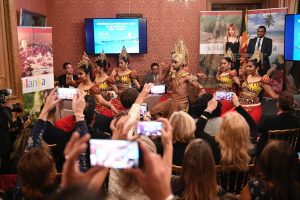 The high profile event was attended by more than 120 guests representing leading media, travel evangelists, influences, bloggers etc from leading media houses, magazines, newspapers, radio channels, TV channels in France. Media Houses including Europe 1 TV, Elle Magazine, France TV, Huffington Post, Gala Magazine, LCI Television, Le Monde Magazine, Omega TV, Radio France, Radio Monte Carlo,Paris   Match Magazine,  Select Entertainment travel and Luxe – Magazine TV  were present at the occasion.