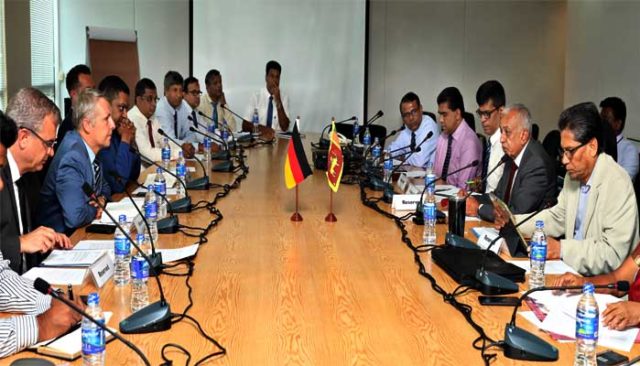 With the objective of addressing central issues faced by German enterprises operating in SriLanka under the Board of investment as well as facilitate new  investment, the Sri Lanka – Germany Fast Track Dialogue was held recently at the Ministry of Development Strategies and International Trade.
 Minister of Development Strategies and International Trade Mr. Malik Samarawickrama led the Sri Lankan delegation assisted by Chairman of the Board of Investment of Sri Lanka Mr.Mangala Yapa and Additional Secretary to the Ministry of Development Strategies and International Trade Mr. W A D S Gunasinghe,.Also present were members of key Sri Lankan institutions whose inputs were essential to ensure a rapid resolution of the matters discussed.
The German delegation was led by Ambassador of Germany in Sri Lanka Mr. Jorn Rohde, who was assisted by Mr. Andreas Hergenroether, Chief Delegate Delegation of German Industry and Commerce in Sri Lanka (AHK).  The German Companies present were B Braun Lanka Pvt Ltd., DHL, Keells Pvt Ltd, Eskimo Fashion Knitwear (Private) Ltd., Go Vacation Sri Lanka (Pvt) Ltd., (Den Touristk), Hellmann MAS Supply Chain (Private) Limited, Kramsli Lanka (Pvt) Limited, Ceylon Oxygen Limited and Wurth Lanka.
Minister Malik Samarawickrama welcoming the German delegation. said  that Germany was a very important trading partner for Sri Lanka with a volume of trade totaling Euro 1.2 billion and said that although there had been an important trade and investment delegation to Germany in 2018, but the recent events had impacted on the inroads made in taking economic relations even further.
Minister Samarawickrama further commended Germany for establishing a culture of punctuality, precision and high standards of integrity.  He added that on the Sri Lankan side institutions such as BOI and EDB were making a strong effort to facilitate business and eliminate bottle-necks faced by investors and exporters.
Ambassador Jorn Rohde stated that economic relations should ideally resemble the German autobahns, providing speedy solutions to all issues and  welcomed any effort aimed at improving Sri Lankan's business climate and also the resolution of any issues faced by German SMEs.
He was particularly interested in seeing a return of tourist arrivals to Sri Lanka since the Easter Sunday events.
Minister Samarawickrama reassured the German side that security had been strengthened at the airport and hotels.  Furthermore a tourism promotion campaign will be held in Berlin to address tourists and travel agents and educate them about Sri Lanka.  A total of 8 leading tourism generating countries were targeted for a recovery plan.
It was also revealed that fCour tourism road shows will be held in Berlin, Stuttgart and other German cities.
The issues specific to German investors to which solutions were being sought include the registration of disinfectant products under the National Medicine Regulatory Authority (NMRA), VAT refunds for several German Companies, issues relating to the recovery of the tourism industry, issues  relating to Cargo handling, monies owed to German Companies, tender procedures and payment of demurrages.
Many of these outstanding matters were resolved or studied for a solution to be arrived at under a timeframe to solve them.