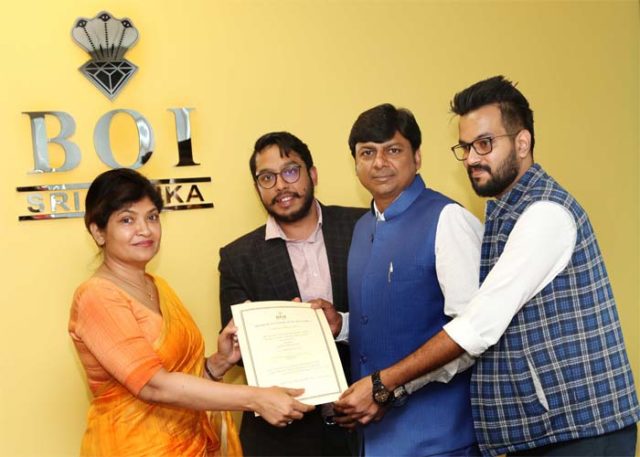 The Board of Investment of Sri Lanka signed an agreement with ARD Aluminium (Pvt) Ltd to set up a factory to manufacture aluminium food containers with lids and aluminium home foil wrap for food.
Currently these products which are popularly used by the catering industry are largely imported from other countries, notably China.  This company already manufactures 15 variants of this container and also barbeque trays used for roasting food.  ARD Aluminium (Pvt) Ltd will build their plant at the Mirigama EPZ and the ground breaking ceremony for the factory was already held recently.
The Investors Mr. Akul Gupta, Mr. Dhiraj Agarwal and Mr. Rohit Agarwal were present at the signing.   Also present were Mr. Nishantha Gunawardana and Mr. Rohan Fernando both Directors of the local manufacturing operater.  The BOI was represented by Ms. Renuka Weerakone Executive Director (Monitoring) Acting for the Director General.
Mr. Akul Gupta stated "We have the capacity to manufacture 250 tons of aluminium containers per month which is the equivalent of 25 forty foot containers.  Our products will be exported to India, the United Arab Emirates and Western Europe, notably the United Kingdom."  A total of 20% can be sold on the local market.
He added "Our plant will employ 125 workers who will be working in 3 shifts.  Also I wish to add that our manufacturing process is environmentally friendly and the left over aluminium will be re-exported to India in bale form."
Mr. Gupta also added "This manufacture will support a lot of local food industries and catering businesses as it is ideal for the delivery of hot food which is a growing business in Sri Lanka."
Production by ARD Aluminium (Pvt) Ltd is expected to start in July 2019.