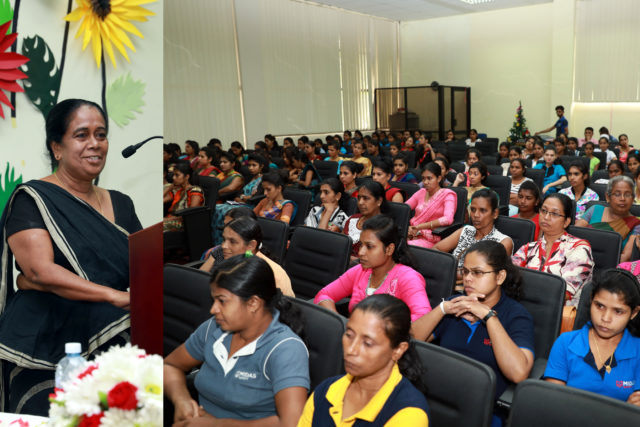 In appreciation of the very important contribution by women workers to the Sri Lankan national economy, the Board of Investment of Sri Lanka (BOI) and Seethawaka Manaufacturers Association jointly organized the International Women's Day at the Seethawaka Export Processing Zone (SPEZ), to honour the female workforce.  The event was held at the auditorium of the SPEZ and the chief guest was the famous author and former Secretary to the Women's Affairs Ministry, Sumithra Rahubadda,
Present at the occasion were BOI officials, representatives and employees of various enterprises, government officials and participants from local training schools.
The International Women's Day is celebrated worldwide on 08th of March since 1975, when it was adopted by the United Nations.
The Seethawaka Export Processing Zone was completed in 1999 and vested in the BOI in 2001. Its total land area is 431 acres of which 183 acres are dedicated as an industrial area.  At present there are 26 foreign-owned factories operating in the Zone from Hong Kong, the UK, the USA, Japan, India, Pakistan, Thailand, Belgium and Canada operating in the zone.
SEPZ is the third largest Zone in terms of productivity and development.  It also has the largest number of women workers.  Ms Yasodhara Bogamuwa, Senior Deputy Director SEPZ stated: "I am proud and privileged to head a zone where women dominate the workplace and also contribute immensely through their work skills and creativity".
Investors are attracted to the Zone as it is only 47Km away from Colombo.  The total workforce is of 23,942 consisting of 10,606 males and 12,312 women workers.
The main activities of the Zone are the manufacture of knitted fabric, zippers and other accessories, garments and the washing of garments and Latex Gloves.
(Courtesy : Media Department Board of Investment of Sri Lanka)