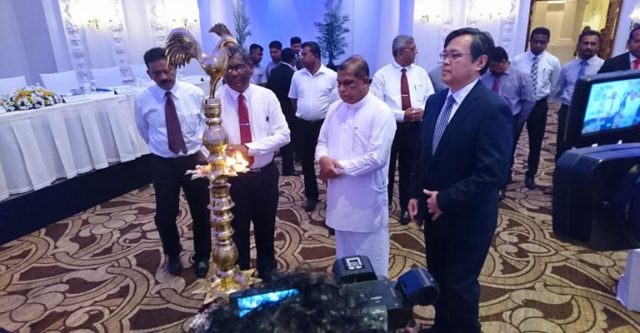 Japan International Cooperation Agency (JICA) shared vital experience on the importance of developing Disaster Risk Reduction (DRR) plans at local government level at a Seminar held on 26th February 2019 in Colombo recently.
The sessions were organized by JICA together with the Ministry of Public Administration & Disaster Management and Disaster Management Centre. The occasion was graced by Minister of Public Administration and Disaster Management Ranjith Madduma Bandara,  Japanese Ambassador in Sri Lanka Akira Sugiyama, the Secretary of Ministry of Public Administration and Public administration and several other stakeholders including officials from various local government agencies.
The customised local DRR plans recommend that local authorities should develop and implement a holistic and integrated DRR strategy which contributes to building resilience and efficiency at local government levels.
The local DRR plans are developed as a response to achieve the target (e) of the Sendai Framework for Disaster Risk Reduction 2015- 2030, substantially increasing the number of countries with national and local disaster risk reduction strategies by 2020.
During the seminar JICA explained the eight steps necessary for the development of local DRR plans through 'Practical guide for developing local disaster risk reduction plans towards 2020' which provides ample guidance for the formulation of DRR plans at local level.
The seminar also advised that these plans should be developed in collaboration with the national government based on the legal framework in a country including specific measures against disasters together with goals and time span, as well as budgetary allocations.
Furthering cooperation, JICA expects to broaden support towards the formulation of local DRR plans in the upcoming Technical Cooperation project in the same subject area.
Japan International Cooperation Agency (JICA) is the executing agency of Japan's Bilateral Official Development Assistance (ODA). JICA, the world biggest bilateral aid agency, works in over 150 countries and regions. In accordance with its vision of "Inclusive and Dynamic Development," JICA supports the resolution of development issues in developing countries. In Sri Lanka, Japan has been providing financial and technical assistance since 1954 and is one of the largest donors to the country. On behalf of the people and the Government of Japan, JICA contributes to improve the lives of people in Sri Lanka.