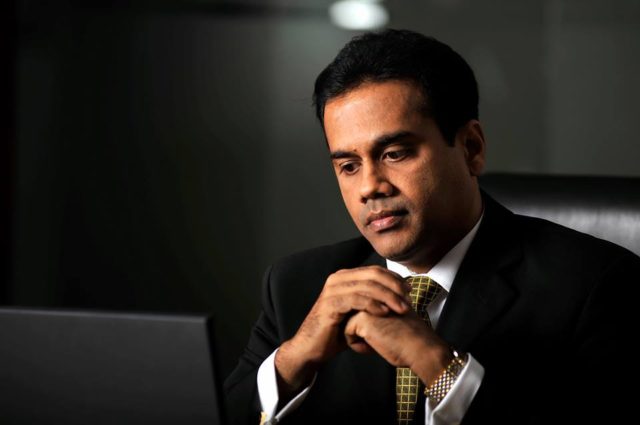 By  Sureshni Pilapitiya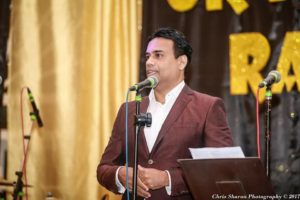 Chevron Lubricants Lanka  PLC , is a leading blue chip company with 49% shareholding, andextending its market entry into Bangladesh as well. Chevron  Lubricants, as an internationally acclaimed  and a profitable organization  has made its mark as one of the leading stakeholders in the private sector, thus bringing in a considerable revenue and profit to the country's economic growth. The success that the company enjoys now is due to the hard work, commitment, and dedication of one great personality, and that is none other than Kishu Gomes- CEO/Managing Director of Chevron Lubricants Lanka PLC, being the driving force , and the brain wave behind the numerous  achievements received both locally and internationally, throughout the years. Kishu can be considered as an example for all those who want to achieve their goals through hard work and commitment, and show that ''anything is possible '' if you have the courage and determination to move forward. Kishu has been through it all – obstacles, challenges, and hardships you name it-and finally emerged as a winner- proving that''learning the hard way '' is the path to success.
Having started his career at Coca cola, he worked his way up the ladder by holding a variety of key sales and marketing positions including two country assignments in Singapore and Vietnam. Positions held included public relations and event management,corporateaffairs and sales distribution management etc. After joining Chevron he revolutionized the production oriented state owned lubricant business to transform it to be one of the most admired and profitable blue chip companies in Sri Lanka. He was appointed as the CEO/Managing Director at the age of 35 to become the youngest to head two multinational operations in Sri Lanka.
As a corporate leader, he has held may prestigious positions such as the past president of the American Chamber of Commerce, a vice-senior chairman of the Charted Institute of Marketing, UK- Sri Lanka regional branch, served on the Advisory board of the international music foundation, and also sits on the boards of the Cine star Foundation and Outstanding Song Creators Association (OSCA) to ensure the rights and welfare of the Cinema and Music artists in Sri Lanka. He has also chaired the judging panels of Effie's advertising awards and brand excellence conducted by the Sri Lanka Institute of Marketing, and also contributes towards uplifting the quality of higher education as an advisory board member for three private universities, namely the SLIIT Business faculty, Colombo Business School and CINEC Campus.
Having an MBA from the University of Leicester and being a fellow of the Charted Institute of Marketing, UK. Kishu has won many regional and global awards and unique achievements in different aspects of business, being the Inaugural Best young Director award by the Sri Lanka Institute of Directors in 2002, one of his memorable achievements till now. He also is an acclaimed speaker, sharing his leadership skills and experience with private and public sector organizations and public, professional and educational institutes in order to create a competitive Sri Lankan work force. Apart from all these achievements he is also a national 110 meter hurdles champion, proving that's ports by no doubt had enhanced his personality. He is also keen on travelling as well, but not out of the country since he officially gets to travel. He says travelling out of the country is the last thing he would ever want to do during his leisure. He likes travelling to Anuradhapura, Nuwara Eliya and Polonnaruwa, ,to explore the culture and heritage which is one of his passions in his life. In spite of all his achievements he is also the embodiment of a variety of talents and skills. He is a singer, a writer and does modeling as a professional and in addition he is featured often in talent shows and radio talk shows as well .Going to the beach is another hobby, but that's on the bottom of the list, expresses Kishu. Despite his busy schedule, this amazing business tycoon took some time off to talk about Business, sports and his achievements as a successful entrepreneur and a leader.
. Excerpts:
Q: What inspired you to forget a promising career in the Tri-forces and join the business sector?
A:  Well, I always wanted to be somebody who is impressive, who's looked up to. Forces was kind of a natural drift , you know , where those days, if you do your advanced Levels in Mathematics or Biology, and if you have minimum of two or three passes, and a sports background, that's the recipe for you to become an officer. It was just an inclination, but obviously I got excited by this impressive personality whom I saw for the first time -smart, well dressed, very confident young lad getting off a flashy car- and dominating the scene, getting everyone's attention etc. Then I wanted to do a research and find out as to what the job is, and then I found that it was a sales/marketing kind of job, so this guy was working for a multinational company-so that was inspiration. So I obviously joined Coca-Cola with that inspiration.
 Q : When you first joined in , what kind of challenges did you have to  face, as a newcomer ?
A : Many challenges. One was, of course, getting adjusted to the organization and the culture, just coming from a school background. Getting into a business organization, and understanding how a business organization works, and understanding people's systems, processes, culture of your organization and all of that. And then the second point. What you're expected to do in your job, understanding how to do it, and also knowing well there's competition for you, internally as well. Understanding your customers, product range, channel partners, etc. Those were the very initial challenges.
Q : Were there any obstacles you had to face from your other colleagues , and industry counterparts?
A: Yeah, many obstacles. Coca Cola was a very large organization, very much larger than it is today. In terms of obstacles, in a very large organization, you'd always see your colleagues trying to push you down, internal competition, and bad tactics deployed by people , and you know, when they see you shining , there's jealousy , envy , all of that. Especially in that era, when things were not very transparent, the culture was that, you don't know how your bosses read you, you don't have any performance or agreements or anything, you can do your 100% but it all depends on what your boss really concludes for you. Whereas in the modern world, things are much different. You tend to know the rules and what to deliver, the supervisor, manager or leader, cannot stay without giving you the credit if you have delivered. The systems have changed. But at that  point of time, apart from doing the job, you also had to be in the good books  of your supervisors , so I didn't enjoy that. There were challenges as such , and then of course, in my job, I became the special events manager at a very young age- just 19+ ,so the demand in terms of time, was at it's highest  level , juggling with so many event sponsorships, meetings, negotiations , all of that, and there was even a time when I used to work 20 hours a day. More exaggeration- you start up in the morning and you end up in a night club, not going and clubbing but , sponsoring an event, or some talent show, or a dancing competition, you know, something ,these are the places where soft drinks are consumed, so I go home after one o' clock and the following day  you have to wake up at five o'clock to get back to work on time .
Q: How does  it feel to become the Inaugural  youngest Director in 2002?
A: Well, to be specific, the youngest CEO to be appointed by two multinational organizations. when I got it, it was a shock. But my leaders who selected me, who were in Singapore , where the  regional headquarters are situated, so the president there gave me enough assurance and the expatriate CEO  who was here at that time said , ''don't worry, you have it in you, take it up and you'll do a good job''. So they gave me a lot of energy and kind of strength that I needed at that point of time, then it was given to me, but to be very honest , I was very worried and hesitant that I may not be able to live up to their expectations. That was the initial impression, but when I started to swim, I realized that this was something that I can do. And from the first year onwards I have been meeting all the way forward in taking this organization to the level it is today.
Q: Do you believe in starting small? Since most young people want to achieve their goals in the easy way, having big hopes about the future.
A:Well, if you want to start small, I don't see anything wrong with it. When you start big, the capacity you have, once you know what your capabilities are, what your abilities are, you should aim at the desired level. When you start small, I'll tell you the flip side. It's all about making the right choice. As an example, say  it's a big market opportunity. You have done your research on all of it and you find a big opportunity in a business. After you have done the assessment, if you think that and if you have the capacity to start big, or medium size, if you take a decision to go in a big level or medium level, has higher risk , therefore I want to start small, then obviously , when you start you become successful, and there can be others , competitors watching you, trying to block you. Whereas you know, when you have started big , then anyone who's less capable and smaller, will not be able to compete against you. So there are pros and cons. Therefore, it's not a straightforward decision you can make. There's no theory or practice, there's a lot of variables that I spoke of.
Q : What would your advice be for young  entrepreneurs  nowadays ?
A : I would say , just use your head more than your  body and emotions. Lot of entrepreneurs have a habit of just making decisions based on what they see and what they think. They don't do enough study or research or assessment to exactly know what the opportunity is  , how viable an opportunity is, if you have the capabilities to be able to be successful, in that area. Without that , if you see someone doing that business, being successful is just copying. And you'll probably end up with a lot of unsuccessful stories. That's why I always say, ''head before your body 'you need to take enough time to understand and analyze, do assessment, check the pros and cons of your decision, the problems you might have to encounter, you have to anticipate those and make sure the safeguards in place, and then to make a start, and execute with commitment, dedication, all of that. So, as Sri Lankans we're very action oriented, when we get a thought, we immediately want to implement it, execute it and see what happens. In the modern world, you can't be in that situation. You have to be a little more strategic.
Q :Apart from being an entrepreneur, you also excelled in sports. Do you think doing sports encouraged you to be the personality you are today?
A: Yeah, very seriously it has. The reason being that it's a competition in any field. Be it sports, be it politics, be it any profession, be it social service, be it anything, it's always competition, right? Any game operates within a pyramid. Only a very few can get to the top. Therefore, in order to win, in any game which you lay your hands on, You've got to compete. And to compete, you've got to have the right attitude. You've got to be very energetic, very healthy, efficient and productive. Your mind strength should be very good. All these are attributes sports can find. And there isn't anything else that can give you all the elements that we spoke of. That comes with sports. Sports is so important, there's always a difference between somebody who has done sports and somebody who hasn't. You'll see that in their personality, the way they walk,the way they conduct themselves ,the way they fly, their speed, their energy, all of that are very clearly seen. All that is  clearly distinguished between an athlete and a non athlete. It gives you the personality, and it gives you all the right personal attributes to take over competition and to be a winner. So it's all about attitude, human energy, your style, impressions, and personality as you said, all of that.
Q : Currently you're a member  of the ''Youth with talent '' judging panel. What do you think about the artistic  talents of these young people?
A : It's great. It's amazing actually. That's just one talent show , but there are so many other talent shows that are run in Sri Lanka.   We have amazing talent , but unfortunately  we have not given our youth enough opportunities , you know , open opportunities to showcase their talents. Staying away, to frame them, like, if you can sing ''you can sing'', if you can dance, then ''come and dance''. Rather than that, there has not been a stage in this country for any talent you have for people who have those talents to come on stage and display that.So from that perspective it's the first time in the history of Sri Lanka, that has obviously created a huge impact across the entire country and we see, kids, young guys coming and doing amazing acts. So we need more and more stages , competitions , shows like that in order to provide the opportunities and at school level ,province level, town levels and village levels , if we can create a platform, to search for this kind of talent and sharpen them, we'll be able to obviously earn a lot of money using these talents, that all the countries where tourism is on the move , where tourists go ,those countries use  these things very effectively , and in our case, it has so far  been Kandyan dancing, showing them the  elephants  etc. It's very boring. South Africa has elephants, you go to any country and they have dancing. So we need to be more vibrant, we need to have diverse talents.
Theoretically, Singapore didn't have any space for formula racing. But they decided to have formula racing. By using  regular roads. And that attracts so many tourists on an annual basis. And it's a good example of saying that you need things that are not thought of by a country, in order to promote tourism. In visiting also, you have to create a more entertaining  environment for human beings. Life is short you know. Any good entertainment, meaningful entertainment is good for the nation and add variety.. Otherwise everyday it's issues, issues and issues ,and that's all we get to hear. Without music and dancing life will be boring .With music and dancing, life is not boring.
Q : What does it take to be an accomplished person ? 
A: Well, it's all about achieving your purpose of living. Achieving great heights and allowing the people to benefit from that. A certain portion of that benefit should be shared with your fellow countrymen, the people around you. Then you can be really happy that you're accomplished. Otherwise, if you just keep your success to yourself, You haven't done anything positively for anyone. I don't think that's something right.
Q : Who are your role models in success?
A: I don't have any role models. You can't be another individual. You can't copy another individual.  And this role model concept which has been there in the world. If you can tell me one person who has been able to copy another person, and being that individual, it has never happened. There has been only one Bill Gates, there has been only one Richard Branson , it's just one person. So why would  we be following them ?  we should learn from each and everyone. You   learn from Bill Gates ,you learn from Richard Branson, sports stars, all of them , and all good things. But when you learn, it should be things that you can make your own, because you have to be authentic. There are things you can't acquire. There are things that are inheritant and have a style. So you need to understand what that is, and try and look for examples you can make your own, and build that unique individual in you. In that journey,you can also learn from the beggars on the streets, people who have been highly unsuccessful. Learning is not just what you learn out of success. Learning   from failures has been something that has been hacked and used, in the context of role models. When you say role models, it has  been people who have been successful. No, that's not the correct theory.
Q : What kind of a person are you, as an individual ?
A : I'm a person today , dedicated to my work ,caring for my fellow countrymen,  going beyond any personal agenda, and  being that individual who creates value for the country, and creates value to 21.5 million people across the country as well.