Sri Lanka Tourism as an important part  of its global promotions,  reached  the legendry travel  You Tubers 'Vagabrothers''  and invited  them  to experience the true essences of Sri Lanka. Having over millions of globally engaged active social media audiences (mainly on YouTube, Instagram, and Facebook) , vagabrothers  (https://www.vagabrothers.com/) is  one of the top ranked, multi award winning  YouTube travel Bloggers in the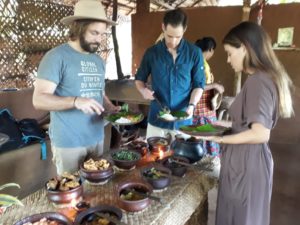 world to visit Sri Lanka in 2018 under Sri Lanka Tourism Visiting Bloggers Program.
As a direct result of the Sri Lanka Tourism's international promotions for travel bloggers, bloggers and social media content creators, Vagabrothers  (which include Mak Ayling & Alex Ayling) , visited Sri Lanka during the  month of October in a mission to explore deep roots of Destination Sri Lanka to share their experience with their global audience.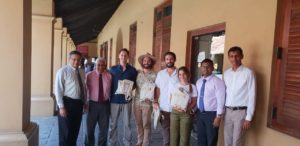 With 1.7 million average monthly views for their channel, Vagabrothers share some of the most engaging travel content to inspire global travel community. Over 740,000 of their weekly loyal subscribers, are spread around the world covering USA, UK & Europe, Canada, and Australia as well as from India.
Vagabrothers were invited by Sri Lanka Tourism under the Visiting Blogger Program-2018, for a 10 day tour throughout the island and offered them a well diverse experience to understand what makes Sri Lanka so unique and exciting to add on to the travel bucket list of the global travellers.
The Tailor-made travel content offered by Sri Lanka Tourism was blended with some of the most popular tourist attractions (Sigiriya, Dambulla, Kandy, Galle Dutch Fort, Colombo, etc.) as well as some of the lesser known locations such as Riverston and Knuckles Mountain Range, Beragala, Wellawaya, Diyaluma Falls, etc.
Moreover their program  was also designed to offer greater experiences connected to  nature, wildlife (Kaudulla, Minneriya), culture & lifestyle and amazing palm beaches.   Vagabothers were able to experience  the Nation's favourite street feast and taste the most popular Sri Lankan crabs to enrich their daily blogs about our island nation.  Local Ayurveda, on the traditional way of life in rural areas have  taken their attention throughout their journey.
By endorsing Destination Sri Lanka, Brothers described the island's  beauty as  ''whether you surf or not there is no shortage of reasons to visit Sri Lanka. From the iconic  Sigiriya Iconic Citadel Rock to the thousands of wild elephants roaming in the island''
Together with Vagaborthers  one of the popular lifestyle bloggers on YouTube, Carolyn Ann Bacon who goes as  '' carrierad''  on You Tube and Instagram with over 300,000 social media follower base also visited Sri Lanka to get to  know about  Island Sri Lanka and Sri Lankan Ayurveda healings.
Upon travelling over 50 plus  countries around the world, Vagaborthers has stated ''Sri Lanka as a real value for money destination with great diversity''
With the  hosting over 36 travel Bloggers & influencers from around the world and creating a global reach over 33 million from 530 plus various social media and blogging contents, Sri Lanka Tourism has gained greater success in terms of creating a travel dream about Sri Lanka. Moreover,  Sri Lanka Tourism was able to  extend their global travel blogger promotions to Europe and USA   by taking part in the  lucrative international destination promotional events such as TBEX – Europe & North America and welcome some of the most high profile  travel bloggers and social media content creators to Destination Sri Lanka. Local hospitality partners such as Movenpick Hotel Colombo, Amaya Hotels & Resorts, Jetwing Hotels & Resorts (Jetwing Kaduruketha), Tangerine Group of Hotels (The Grand Nuwara Eliya) collaborated with Sri Lanka Tourism to promote Sri Lanka as an ideal travel destination for potential global travellers especially who are seeking unique experiences.