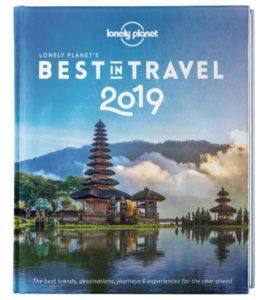 Sri Lanka, bouncing back after the dark days during the war against terror, has been named as the top destination to travel to in 2019, by the world leading travel authority, Lonely Planet's " latest "Best in Travel 2019" book. "Best in Travel" is Lonely Planet's annual collection of the best travel destinations, trends, journeys and experiences to have in the year ahead.
 Lonely Planet spokesperson Chris Zeiher says: "our number-one country to visit in 2019, Sri Lanka, is decided by having its moment is the equatorial sun. "Whether you're a family traveller or an adrenaline Junkie, a wellness seeker or a footie,  in Sri Lanka you'll find all the magic you'd expect from South Asia bundled into a resurgent, medium sized-nation that's friendlier and with improvrd tourism infrastructure and transportation—more accessible in 2019 than ever before."
Meanwhile Lonely planet's destination editor for SriLanka, Joe Bindloss says: "This fascinating island nation has always offered timeless temples, stunning  sand and prolific wildlife, but now, with improved tourism infrastructure and transportation, even the north and east of the country are ripe for exploration, opening up areas that were long off-limits to travellers.
"Whether you come to temple-hop, surf the South Coast breaks or just unwind in an Ayurvedic spa, ypu'll find a country moving on from the troubles of the past and looking to the future."
Lonely Planet is a leading travel media company and the world's number one travel guide book brand, providing both inspiring and trustworthy information of every kind of traveller since 1973.
Destination editor at Lonely Planet Matt Philips explaining why Sri Lanka was named as the "Top Destination to visit in 2019" says: "It's changed so much, so quickly and in a lot of ways that makes travel much easier". He further  said that travel products and hugely evolved in Sri Lanka and now included diverse opportunities beyond beach holidays, from eco-tourism and yoga retreats to visiting national park to see elephants and leopards.
"It's also great for foodies- Sri Lanka has everything" Philips adds Lonely Planet' for foodies- SriLanka has everything " Philips adds.
Lonely Planet's best Travel desitination for 2019 are:
Top 10 Countries
Sri Lanka
Germany
Zimbabwe
Panama
Kyrgyzstan
Jordan
Indonesia
Belarus
São Tomé and Príncipe
Belize
To all tourists: An unforgettable experience awaits you in Sri Lanka!