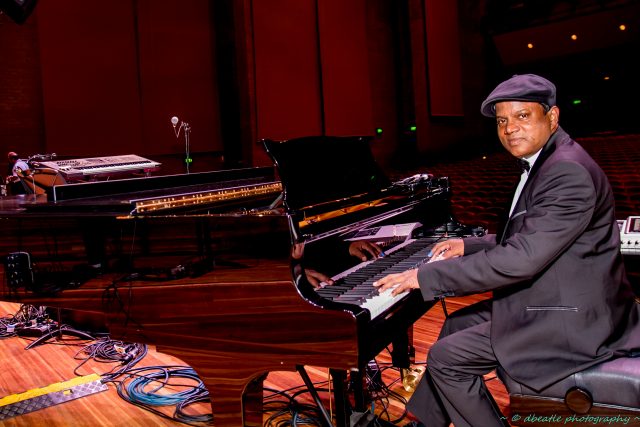 By Sureshni Pilapitiya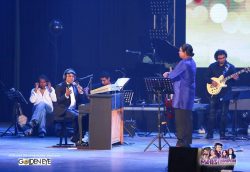 A blend of Karnatic and Hindustani classical with Sri Lanka's folk music and by using western musical instruments to create a  unique  and melodious fusion  has enabled Mahesh Denipitiya to rise to the top strata of Sri Lankan musical scenario at present.
 Having experienced the musical background in his childhood , one of  Mahesh's childhood dreams was to follow in his father Patrick Denipitiya's footsteps oneday and whatever his achievements are the result of that dream.
Mahesh studied at St.Peter's College, Colombo and completed his National Diploma in Technology from University of Moratuwa. But his forte was not machinery and technology but was influenced by the melodies he assimilated from childhood.
To follow his childhood dream and to shower respect and love to his late father he held a successful concert named " Mahesh Denipitiya live in concert" recently  at the BMICH, Colombo, supported by stars such as Chitral ''Chity'' Sompala , Umaria, Nirosha Virajini, and Kasun Kalhara.
These are some of the excerpts of the conversation we had with him on this occasion.
Q: What inspired you to give up a career in computer electronics engineering and become a musician?
A : Actually the inspiration came thru my family background, my love for music, knowledge and understanding of various genres of music, versatility in computer music and all technologies involved and most importantly the confidence and determination I had in myself to take up music as full time and serve our local music industry.
Q: You conducted a successful concert at the BMICH recently . It was somewhat different compared with other concerts, with a mix of modern music and traditional music blended together. How do you manage to bring out an excellent collaboration of both?
A: From my small days I learnt to appreciate good music irrespective of its Genre or language. I also loved the raw melodies and complicated drum patterns in our traditional Sri Lankan Folk and country music, also other variants such as Noorthi, Baila, Kaffringha etc.  I' ve seen my Late father Patrick Denipitiya  ( who was my hero ) doing this blend beautifully in his works with late C T Fernando, Milton Mallawarachchi,  Susil Premaratne to name a few. I worked with him in his COMBO from my small days and also have worked with many traditional Dance groups, Western Choirs, Pop and Rock Bands, Oriental and western orchestras. I worked with him in his COMBO from my small days and also have worked with many traditional Dance groups, Western Choirs, Pop and  Rock Bands, Oriental and western orchestras to understand the fundamentals, theories and musicality behind various Genres and its fusing and Collaboration with other Genres. I also should mention with gratitude that the Musicians I use here are the best in Sri Lanka, qualified in their chosen fields and Genres, hence will not deliver substandard stuff and the final product is something we all can be proud of.
Q: You recently had another ''Mahesh Deniptiya live in concert'' in Doha
Qatar. Do you hope to conduct these as a series of concerts, and taking Sri Lankan music to a global level?
A: The answer is a big YES. Actually this Concert series highlights our traditional and pop songs sung by the best Singers in the Industry, as well as some quality fusion music by the orchestra who has worked with me in the award winning Dell Studio series. It is mostly suited for an overseas audience but it's a fresh experience for our local audience as well.
Q: Do you normally experiment with different genres of music before creating a melody, or is it something which suddenly comes to your mind?
A: Composing is another side of me. Most of the time it was done on requests made by Lyricists, Artists, Album and Film producers etc. Some songs I have done in minutes and for some songs I have struggled. Some I have experimented with my creative ability to give a unique sound and feel to that song. Up to now I have been involved in 14 movies as either composer for songs or as back ground music Director such as "Super Six", "Asai mang Piyabanna", "Suwandha Dhenuna Jeewithe", "Rosa kele",  "Ran kewita2"  to name a few and may be over 400 commercial songs. But in Dell Studio TV Music program what I have done is taking the already popular song to another level with my creative ability. Actually these are just TV performances where I haven't spent much time in rearranging them and some are spontaneous work. I am proud to say that I have recreated about 250 songs of different feel, styles or Genres with my creative music direction but have tried my best to protect the original melody of the Song with the support of the original Singer.
Q : What inspires you to create a good melody?
A : The  factors that inspire me or any other good composer to create a good melody would be a good concept, Professionally written beautiful and meaningful Lyrics that makes you motivated,  understanding of the audience and category to which the song belongs to, the mood or scene of the Song, the final singer who is going to deliver it, his style, voice and range and few other variables.
Q: At the moment, what do you feel about the modern music industry in Sri Lanka? Do you think we have a good second generation of musicians?
A: I feel good but there are negatives too. It is good that we have YOU TUBE which is a powerful media that cannot be controlled by rating hungry TV or Radio stations. There is space for all Genres of Music, unlike those days where some biased authorities forced us to be followers of Indian or Hindi Music only.
We have a very good cream of second generation of musicians and some are world class players. I am blessed with some of them performing in my orchestra too. It's high time that our audiences should learn to appreciate good musicianship and skills of these players as they have spent over 10 to 15 years of hard training to come up to this level.
Q: How do you see the music scene locally and globally?
A : The Gap between local and global music is getting narrower with the digital revolution. Facebook and other social media with you tube uploads will help each individual to choose his favorite songs or choice of music. But there will be our ardent Sri Lankan audiences who would still prefer our own traditional and folk music, light classical songs, 70's Pops, Movie songs and bailas to those songs of West.
But globally there is a major threat with not only amateurs but also popular local and foreign Artists and Bands trying to violate copyrights of songs of yesteryear in order to gain cheap publicity or earn some easy buck. I feel it is due to the lack of originality or poor song composing efforts or even could be that they've run out of ideas for new songs.
Q: Finally, how do you feel about the massive response which you got for the ''Mahesh Denipitiya live in Concert''?
A: Very thankful Sureshini, It's a Different Brand of music. Yes we have had a full house whenever we stage this concert here and overseas and it's a humble victory for all of us who believe in giving the audience value for money and time.  I am thank full to all our local and overseas organizers, sponsors, also the print and electronic media and  my talented orchestra, Malinda Lowe our top sound Engineer, and lighting crew , Family and friends and to God almighty for giving me strength and guidance to go through all obstacles.