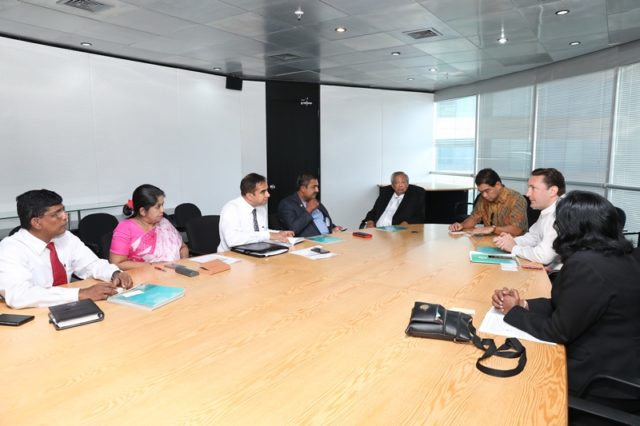 A five-member Malaysian business delegation headed by Dato Kulasegaram Sabaratnam, Chairman of the Malaysia Sri Lanka Business Chamber was hosted by the BOI and briefed on the possibilities of investing in the country recently.  This delegation had made several visits to Sri Lanka in the past and built strong ties with the country.   The Malaysian team was in the Island to participate at the "Sri Lanka Investment and Business Conclave 2018".
Among the sectors of interest of the delegation was the possibility of manufacturing furniture in Sri Lanka as one of the companies British Seep Systems and Beds (BSSB) has vast experience in this sector and in fact currently exports to clients in the USA, Europe, the Middle East and also retails in the UK.  This company which employs 700 staff in Malaysia is exploring opportunities in Sri Lanka.
Another Company which is part of the delegation was looking at the service sector such as business process outsourcing and legal process outsourcing.  The Company is also interested in publishing, and more specifically books in the Tamil language.
One company represented was interested in the Unit Trust Industry and studying the opportunities available in Sri Lanka.
Specific areas which the delegation did show interest was on the possibility of manufacturing solar panels in Sri Lanka, an area where the BOI has conducted extensive research in collaboration with Harvard University's Kennedy School.
The leader of the delegation Dato Kulasegaram Sabaratnam also stated that his delegation were keen to examine the possibility of marketing Sri Lankan products in Malaysia and had scheduled meetings with important local stakeholders like EDB as well as individual entrepreneurs, with a view of entering into joint ventures.
The BOI was represented by Ms. Nilupul de Silva Director (Investment Promotion), Mr. Dilip S Samarasinghe Director (Media & Publicity) and Mr. Manilal Ranasinghe Deputy Director (Investment Promotion).
Malaysia has been traditionally one of Sri Lanka's most important sources of investment in the period from 2005 – 2016.  In that period over $1.4 billion worth of FDI inflows originated from Malaysia.  Currently Malaysian investments include projects in Hydro Power, KPO Services, Cellular Mobile Telephone networks, Hotels, Container Services, IT, the Browning Beer and education.
Currently there are an estimated 22 Malaysian enterprises in commercial operation in Sri Lanka under Section 16 of the BOI Law and another 13 under Section 17.  One of the important areas which BOI promoted to the Malaysian delegation was Sri Lanka's access to several key markets under international agreements including the Indo-Sri Lanka FTA, Pakistan – Sri Lanka FTA and GSP+ agreement with the European Union in addition to the FTA with Singapore.  In the future an FTA would be signed with China.
As Malaysia has a booming economy and has emerged as an economic leader in the South East region, BOI is keen to attract Malaysian investments in a number of key industries such as information communication technology services, electronic and electronic items,  Automobile components,  Textile and Apparel, light Engineering,  Rubber based products, Agro processing, Ceramic Industries,  Tourism and research & development.
The Malaysian delegation also stated that they had a strong links with Sri Lankan communities overseas and were keen to partner in any future economic forum bringing together Sri Lankan economic interest overseas.
(Courtesy : Media Department Board of Investment of Sri Lanka)