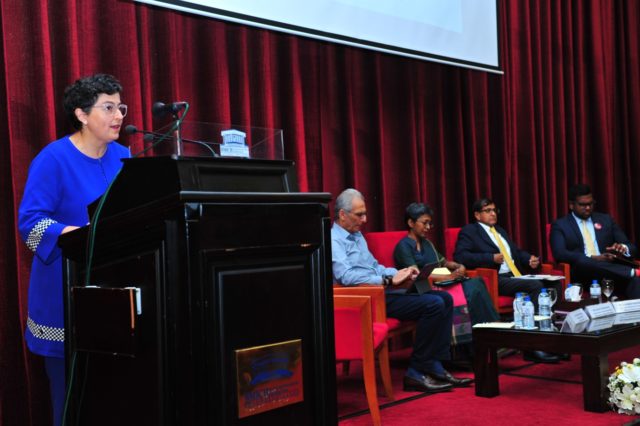 As Small to Medium Entrepreneurs (SMEs) sector of Sri Lanka is contributing 52% of the Gross Domestic Product and is also providing 45% of the employment, the National Export Strategy unveiled by the SL Government is clearly geared towards creating an enabling environment to strengthen the competitiveness of the SMEs by acting upon the challenges they have to face, said Madam Aranche Gonzalez, Executive Director/International Trade Centre (ITC), Geneva, at the one-hour panel discussion organized by the Export Development Board (EDB) at the Lotus Room at the Bandaranaike Memorial International Hall (BMICH) recently.
Madam Gonzalez further said that she had mentioned at the launching of the Export Strategy, a strategy was only valuable when it is implemented and as she had promised at the event, ITC is committed to continue working with the Government and the people of Sri Lanka to ensure that this strategy leads to clear impact on the ground.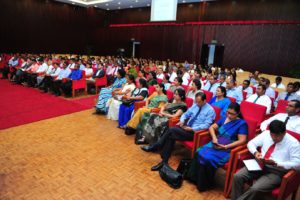 The panel discussion with the participation of around 200 public and private stakeholders was entitled "Which way the trade winds blow—Current and future international trade scenario".
Dr. Dushni Weerakoon – Executive Director & Head of Macroeconomics Policy Research from Institute of Policy Studies of Sri Lanka, Dr. Ganeshan Wignaraja – Chair of the Global Economy Programme from the Lakshman Kadirgamar Institute & Mr. Ashroff Omar – Chief Executive Officer of Brandix Lanka Limited also gave their Economic & Exporter Perspective as the panelists. The discussion was moderated by the Mr. Anushka Wijesinha – Advisor of Ministry of Development Strategies & International Trade.
Addressing the gathering Madam Gonzalez said that partnership was the clearest route to success in a country such as Sri Lanka and the presence here said confirms that the public and private sector in this country are committed to collaborating for trade and economic deliverables. The National Export Sector, which was launched yesterday, was created through a process of consultation. Its effective implementation will also hinge on this being a partnership moving forward.
While thanking the EDB for convening this meeting and for their dedication to making trade a driver for social and economic change in Sri Lanka, she further said that she had seen the EDB, under the able leadership of the CEO, become a major advocate on the global stage for investing in Sri Lanka. It is one of the most influential arsenals in the economic diplomacy.
She further thanked all the drivers of the private sector in Sri Lanka for joining this gathering." I know that many of you have been key in designing the National Export Strategy as part of the Advisory Committee, or simply as a committed Sri Lankan citizen and dedicated entrepreneur";she added.
"Today, people in Asia are healthier and better educated. They have access to information and jobs. Their countries are better connected to their neighbors, and the standard of living is higher. With the current pace of growth, the region may account for half of global GDP by 2050.
"As the fastest growing sub-region in Asia, South Asian economies expanded by an average of 6.3% percent in 2018, while keeping inflation in check. These emanated from positive factors, such as better crop harvests and increased regional integration. The outlook remains bright in 2019. Average GDP growth is expected to reach 7.2%, with an average inflation rate of 5.1%. SMEs account for 98% or more of all enterprises in most countries in South Asia and are recognized as an important strategic sector for generating economic growth and for reducing unemployment, inequity, and poverty.
"In Sri Lanka, growth is at 4.5% and the SME sector contributes 52% of GDP and provides 45% of employment. With the aim of further improving productivity through innovation and narrowing regional development disparities, the Government of Sri Lanka shows continued support for SMEs, especially those in regional areas, through tax incentives, concessional lending, and business infrastructure. Banks in Sri Lanka have taken steps to assist SMEs by providing not only credit but also business advisory services. You must all know that commercial banks established SME centers in their branch network to offer access to technical expertise and financial knowledge and encourage entrepreneurial growth. And they need to keep on doing that, investing in further incubators and accelerators to help young businesses thrive.
Although  these public and private measures are implemented she said that Sri Lankan SMEs still face  number of challenges such as constraints in access to finance due to collateral requirements, lack of widespread business development services, inadequate access to technology, inadequate linkage with markets, and limited availability of skilled manpower.
She further said: "Since my arrival in Sri Lanka a little over 24 hours ago I have discussed how an efficient implementation process could work, I mentioned regional integration and partnerships as key to take this strategy to the next level, and I championed innovation, inclusiveness and sustainability. However, I did not elaborate about some dangerous winds, probably a hurricane, called unilateralism".
She also made some important points that could help in protecting the economy from this hurricane?
1. By facilitating trade, not just protecting trade. By creating jobs, and not only protecting existing jobs. Trade protectionism in this global order, where our economies are interconnected like never before, does not protect, it rather results in self-harm as we are seeing from the current tit for tat measures and countermeasures. A more promising avenue is to invest in improving the competitiveness of our economies and the skills of our citizens. This is clearly the case of Sri Lanka, who needs to invest more on local value addition.
2. By fostering entrepreneurship, especially of young women. Most SMEs are led by people who are less than 35 years-old in Sri Lanka. But, in the country known to have the first female ruler in Asia, only a few of these SMEs are led by women and even fewer of them trade. Our She Trades initiative, which aims to connect women to markets and empower them economically, has been one of our key collaborations with Sri Lanka, and has contributed to creating long lasting economic opportunities for Sri Lankans and achieving more inclusive and sustainable growth. We should now capitalize on these efforts.
3. By investing more in regional cooperation and integration in trade but also in terms of connectivity in infrastructure, especially digital, and finance. Collective actions should focus on addressing climate, environmental, health, and other vulnerabilities with more focus on regional public goods. It would be important to foster knowledge sharing and collaboration among different sub regions, and work with emerging regional and international initiatives to further promote cooperation in the Asian and Pacific region.
4. By supporting multilateralism and multilateral institutions not out of naivety but because it is the faster, simpler and more effective manner to manage our interdependence. In a less cooperative world, all countries' economic well-being and environmental security would be diminished. Returning to a world where "might makes right" might be especially bad for small economies, but even the mightiest countries would be poorer than they otherwise would have been. This is not to means that the multilateral trading system is perfect. It is not. It needs a serious reform. But it would be better to do it in a collaborative manner rather than by throwing the system away.
5. By doing better on social policy at home. The international rules-based order would have been less vulnerable to political scapegoating, if governments had done better on that front. We must look at domestic policies that help manage those left behind not only by trade opening, but also those who loose their jobs as a result of technological progress. We should equally work to ensure a fairer distribution of the benefits from growth.
6. By capitalizing on multi-sectoral and multi-stakeholder partnerships. This region's success is built on strong partnerships among different sectors and stakeholders. All development activities require partnerships. Partnerships with governments, civil society and private sector are key for regional cooperation as well as for national planning to building infrastructure, human capital, and fostering innovation.
She ended her valuable contribution by saying that the ever strengthening Sri Lanka–ITC partnership was a matter of a great satisfaction and pride for both. She expressed her gratitude to the Government of Sri Lanka for its continuous cooperation over the years as the ITC looks  forward at implementing the National Export Strategy and to many more years of a productive and an effective collaboration.