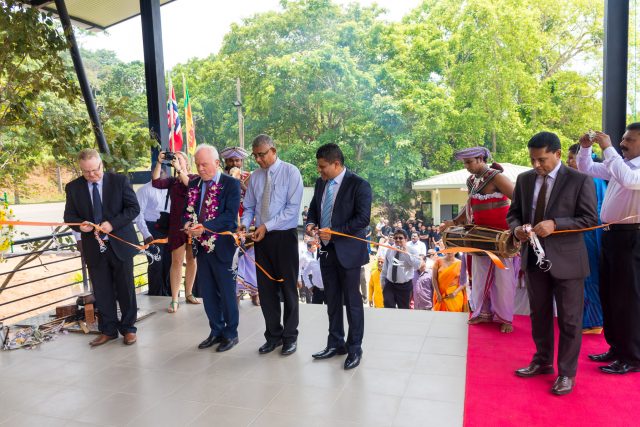 Jiffy Products SL(Pvt)Ltd a Sri Lankan subsidiary of Jiffy International as Kristiansand, Norway, a transnational company, engaged in manufacturing, sales and distribution of plant propagation substrate system and related horticultural products globally, recently ceremonially opened a new regional office at the Mirigama Export processing zone.
Jiffy Products SL (Pvt) Ltd was incorporated in 2003 as a BOI project.  The main attraction of Sri Lanka is the availability of coir fiber pith which is derived from coconut husks.  This product has become increasingly popular all over the world as a medium to propagate and grow plants.
JPSL began its operations at the Mirigama Export Processing Zone as a BOI project and it has since then extended its operation to four locations of which two are in the Mirigama Export Processing Zone and the other two in Pannala and Kobeigane in the North Western Province.
Currently JPSL is the leading manufacturer of Plant Propagation Coco Products in Sri Lanka.  This project is very significant because it is a Norwegian investment.  While Norway is not a member of the EU, it is closely associated as a member of the European Economic Area.   With growing interest of the European Union in Sri Lanka as a result of the return of the GSP + facility products, such as those manufactured by this enterprise would become more competitive and therefore more attractive to consumers. This in turn can lead to an increase in investments by companies such as Jiffy into Sri Lanka.
Today, Jiffy has the capacity to produce 17,000 MT of Coco substrate volume per annum and export their value added Jiffy-7C pellets, Grow Block, Grow Bags and many others products mainly to Europe, Canada, USA, Japan, India covering 40 different countries in all continents.
Currently the company has about 10,000 direct and indirect employment and pumps over LKR 1billion into the Sri Lankan economy in terms of Raw material purchases, direct and indirect employment and to  the service sector.   A total of 90% of raw material requirement in production is sourced locally.
The Core strategy of Jiffy Sri Lanka is to add value to the raw material (Coir fiber pith and Husk Chips) rather than exporting this valuable resource as unprocessed bulk material.
(Courtesy : Media Department Board of Investment of Sri Lanka)