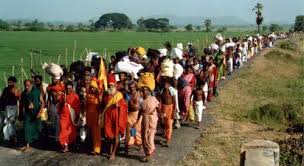 The annual "Pada Yathra", a traditional foot pilgrimage that takes place in the months of June and July, from the north to the south–Jaffna to Kataragama– is a unique and a multi-cultural and multi-religious event.
According to the Deparment of Wildlife sources over 60,000 pilgrims with the uttering of resounding religious chorus of "Haro Hara", walk through towns,villages,forests,fields beaches,crossing the rivers,streams and wild life parks in their long trek to Kataragama
The traditional foot pilgrimage from Jaffna to Kataragama not only serves to raise public awareness of the traditions linking North and South, but also helps to break down barriers dividing communities, long separated by decades of ethnic conflict. The very sight of traditional 'Pada Yathra' pilgrims walking from the North to South, once again, after decades of conflict has rejoiced the hearts and spirits of young and old alike throughout the journey in the East Coast. As we all know, the multi-cultural nature of the Kataragama region enables Buddhists, Hindus, Muslims, Christians and those of any other religion to practice their faith in the safety of a sacred area.
Walking five or six miles per day, the pilgrims halt at 73 traditional places of worship, where they accept  dāna (hospitality and alms) from waiting villagers. The route carries them down the east coast as far as Pottuvil, where it turns inland to cross about 90 KMS of jungle stretch to reach Kataragama. The final stretch of the Yātra takes the intrepid pilgrims through wild jungle teeming with elephants, deer, sambur, and boars, reptiles etc. Typically the jungle claims the life of one or more pilgrims in every year, who succumb to fever, wild animals or simply get lost. Those who have passed through, however, bring home stories and memories of nights by the campfire under an open sky that will last forever in their lifetime.
As many people believe this is not a peace march but an annual reenactment of episodes related as legend and myth about deity of Skanda of Kataragama. Simple, ordinary people, say they have received a 'call', to take part in this marathon walk and some explain this as 'leaving everything behind but a bundle of essentials, they experience the homeless life of a beggar or religious recluse.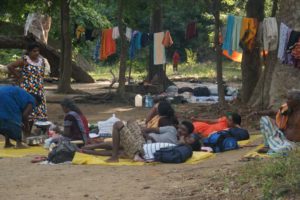 Sleeping and living outdoors for months, under trees, shrines, temples, river banks, rock faces etc. seldom knowing from where their next meal will come, braving death from animal attacks which is worse in recent times. These are the factors of Pāda Yāthra that make it such an intense spiritual opportunity and an experience for those who receive the 'call'. The devotees believe god Kataragama and ruler of the region, ensures the safety of the pilgrims.
We are thankful to Mr.Palitha Gurusingha,  President of Sri Lanka Eco tourism Foundation for providing details and the background to thismarathon  religious trek from Jaffna to Kataragama