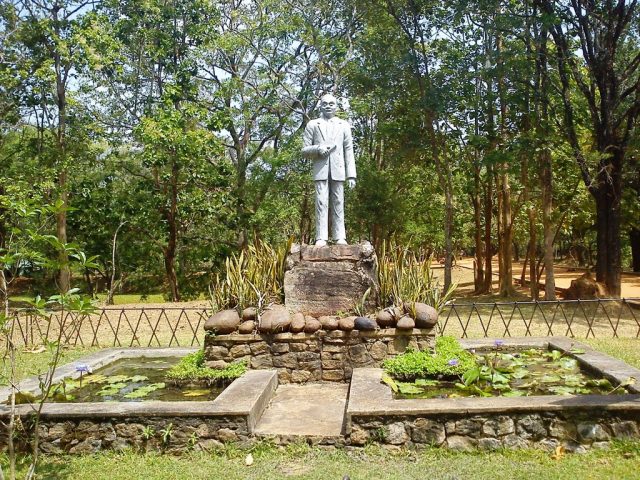 By Rohana Aryaratna
When commemorating the 120th birth anniversary of Professor Senarath Paranavithana tomorrow, the inimitable giant who left an indelible mark in the annals of Sri Lanka's history, shouldn't we forward an important appeal to the authorities to formally declare this pre-eminent archaeologist as a national hero?
Indeed, when considering the significant service he had performed in unravelling the buried history of Sri Lanka and presenting books and academic theses that reveal the pristine glory of our motherland, there should not be any doubt about declaring him as a national hero. Professor Paranavithana is one of the most brilliant and outstanding personalities in the country's scholastic field in the 20th century. Though his work in archaeology began with the onset of World War II, his pioneering efforts came to the fore during his 17-year tenure as the Archaeological Commissioner of Ceylon. He was the first Sri Lankan to achieve this distinction.
His devotion and firm dedication towards the study and research linked to archaeology and the history of Sri Lanka resulted in books, research papers and feature articles. Some of his notable contributions are "The Shrine of Upulvan at Devundara" [1953], "The God of Adam's Peak" [1955],"Ceylon and Malaysia" [1958]," Inscriptions of Ceylon [vol1]" [1970], "The Greeks and the Mauryas" [1971], "Arts of Ancient Sinhalese" [1971]," Inscriptions of Ceylon [vol2]" [published posthumously], "Story of Sigiriya" [published posthumously and "Sinhalayo".
In a review of one of his publications—Sinhalayo— in the Daily News, Professor Paranavithana was introduced as "a fabulous voyager". It says "he is the Ulysses of the Orient discovering for the world the rich past of the old civilization".
The editing of volume 3, 4,5 and 6 of the Epigraphia Zeylanica and his most celebrated magnum opus – Sigiri Graffiti [volume 1 and 2] are regarded as his supreme contributions. His monumental work in deciphering 685 verses on the mirror-wall at Sigiriya helps to reveal the sociological and literary details of the era when King Kassyapa established his kingdom. As the poetry belongs roughly to the eighth and tenth centuries, the research by the Professor helped to reveal place names, names of royalty, ranks and titles and the chronological development of the Sinhala script. Due to the Professor's services in history, archaeology, epigraphy, iconography, numismatics, musicology, excavation and archaeological administration, the Department of Archaeology will have to compile another magnum opus to fill all the details.
Duly respecting him as the most brilliant and outstanding personality in the field of archaeology, I would repeat my appeal to the powers that be to honour him by officially declaring Professor Senarath Paranavithana as a National Hero.
(Courtesy: Sunday Observer)