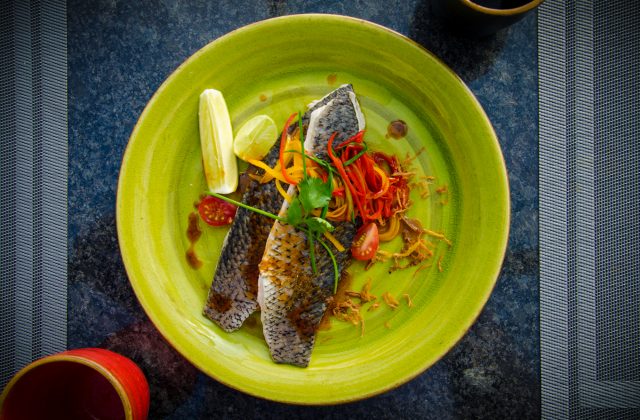 Steamed Round Island Barramundi with Ginger Chilli Sauce, made from a premium fillet cut simply marinated in lime juice, salt and pepper, gently steamed in a bamboo steamer basket until it is cooked and served with a zesty sauce made of ginger, chilli, garlic, coriander and soy sauce, at the Galle Face Hotel's (GFH) seafood restaurant "Sea Spray". This sustainable and commercially farmed produce has a distinctive taste and will star in a new menu developed by Executive Chef Adam Gaunt.
The Galle Face Hotel needs no introduction. It is Colombo's grandest bastion of hospitality, with a 15O year old legacy etched firmly into the country's busiest promenade. It is this location that sets Sea Spray, the hotel's signature seafood restaurant, apart. Sea Spray offers the quintessential alfresco dining experience with a view of Colombo's iconic landmarks and the ocean.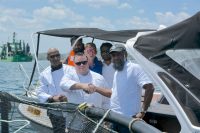 It is simple but perfectly executed; and as with any such dish requires the freshest of produce. As it is a signature dish, the barramundi will be required fresh year around- a challenge in a seafood market characterized by seasonal inconsistency. This is where Round Island steps in by offering year around weekly harvests with consistent quality and flavor from its commercial marine farm in Trincomalee. The farm is a solution presented by Oceanpick-Round Island's holding company-to a growing concern that Sri Lanka's fisheries may not be able to keep up with its rapidly expanding leisure and export markets.
Round Island's produce is also environmentally safe. The seafood market's food safety is threatened by aggressive and harmful wild fisheries practices in the country's coastal towns. Oceanpick offers a sustainable solution to this via its commercial marine farms, which eliminate the need for consumers to depend solely on wild capture fisheries. This produce is ethically sourced and available year round.
Chef Adam says that this is why he chose Round Island's barramundi for his seafood dishes. "There is no substitute for quality and freshness when it comes to seafood," he notes. "As a chef, I don't need to do much to showcase Round Island's barramundi- it's delicious and already a favourite with our diners."
Barramundi or Asian Sea Bass, locally referred to as Modha is a native species widely distributed in the Indian west Pacific region from the Persian Gulf, through Southeast Asia to Papua New Guinea and Northern Australia.
(Courtesy : LIMELIGHT)