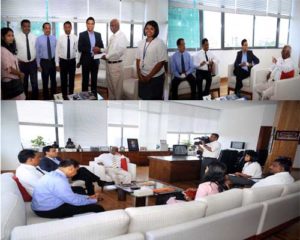 Chairman of the Sri Lanka Promotion Bureau (SLTPB) Mr.Kishu Gomes, leading a team of officials visited the Government  Hospital, Colombo and Nawaloka hospitals to commend the  service rendered  by these institutions in treating and caring  an influx of patients including tourists during April 21st terror attacks.
The chairman and officials of SLTPB  met with senior officials of the Accident and Orthopedic Unit, including Dr Samidnhi Samarakoon, deputy director of the Neurotrauma, accident and orthopedic service and the National Hospital Coordinator Ms. Pushpa Ramyani Soysa and other medical officers and handed over a letter of appreciation for the service they rendered during the tragedy.
They also visited the Nawaloka Hospital and praised the services provided free of charge, a  decision taken collectively by the management of the hospital, and also the dedication displayed by the hospital staff to ensure that the patients were well looked after during their stay .
The SLTPB chairman  also held cordial discussions with Chairman of the Nawaloka Hospital Mr.Jayantha Dharmadasa and other officials and praised the emergency preparedness and enhance patient care during  trying times
Addressing the gathering at the National Hospital Mr.Gomes noted that he was deeply saddened that 42 tourists died in the attacks and commended the services provided in taking other affected victims in ambulances to the nearby hospitals including the National Hospital and Nawaloka.
Stressing the importance of the tourism sector which is the country's third highest earner, Mr.Gomes further said: "Tourism is a growing industry, but unless we grow the tourism income from 4.5 to 10 million, in five years  time Sri Lanka will not have a future. Per capital income will get seriously affected from 3900 level to a lower level. So every Sri Lankan should understand and focus on tourism for a better life.".
He also appreciated the support rendered by both hospitals which did not turn anyone away despite being full. He added that the hospital staff went to great lengths to ensure the victims of the blasts were afforded the best in medical care.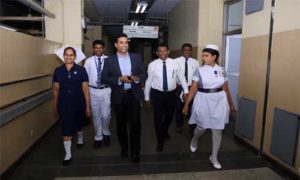 National Hospital Coordinator, Ms. Pushpa Ramyani Soysa mentioned that in the present society, such gestures are rare and they were pleased to see their good work being appreciated. She further said: ''during the 21st April disaster, a total of 265 people were brought to the national hospital, with 30 of them being foreigners. But we attended to each tourist with total dedication and commitment".
While thanking the Chairman of SLTPB for his gesture she said: "the hospital is geared anytime to any such eventualities to serve the people of our motherland and any foreigner who may require our services similar to this."