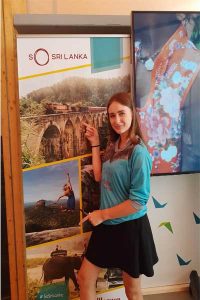 It's where the world's best travel bloggers unite. Traverse 2019 which was held in Trentino in Italy recently, saw over 350 influencers and more than 50 brands converge to talk of trends, destinations and adventures. The event partner So Sri Lanka was front and center, showcasing to the rest of the world, the best Sri Lanka has to offer.
So Sri Lanka joined bloggers, YouTubers, Instagrammers, influencers and digital content creators from around the world gather under one roof for a series of talks, Networking sessions, masterclasses, panels, interviews and much more, mostly from UK & Europe. During Traverse 2019, Sri Lanka Tourism organized a country presentation for travel bloggers on how bloggers can collaborate. Around 50 such travel bloggers and social media influencers from UK and Europe took part. As part of the general presentation, a special documentary was shown on the ethos behind the "So Sri Lanka" branding.
Sri Lanka Tourism also launched a special social media campaign called "Why I should visit Sri Lanka" where bloggers can express their reasons to visit the Island. These videos have been uploaded to Sri Lanka Tourism official social media platforms, engaged and re shared by many international bloggers and industry stakeholders.
During Traverse 19' Sri Lanka Tourism bagged the award for #1 Emerging destination in Asia from Travellemming.com which is a popular international travel blog. Sri Lanka was recommended to by over 35 travel bloggers. At the start of the year, TravelLemming also announced Sri Lanka as their #1 Emerging destination in Asia. The award was presented by Mr. Nathan Hake from Canada who owns and manages TraveLemming.
According to Star N Gage, the designated PR agency, influencer-driven marketing accounts for 11 times higher of return of investment than the traditional forms of digital marketing and influencer marketing. Both of which has been proved to have a greater influence on modern day travel decisions.
By 2019 June, Sri Lanka Tourism Promotion Bureau's own blogger program saw the ideation of over 1400 posts (including: social media posts, videos, blog articles) with exposure for many lesser known attractions and new places. The program resulted in reducing the carrying capacity in the tourism hot spots.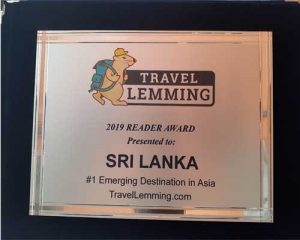 In 2018 alone, 48 bloggers visited Sri Lanka, whose posts totaled a global reach of over 35,518,418 (35 million) and a culmination of global engagement of over 5,254,836. (5 million)
Majority of the high profile bloggers and social media influencers were connected through direct meetings during International networking events and via virtual re-search and recommendations from other bloggers. SLTPB has hosted a number of award winning and globally recognized content creators.
During the Traverse Sri Lanka Tourism Promotion Bureau interacted with the crème of best Travel bloggers, photographers, videographers, writers, and social media professionals from UK and Europe those who make travel news.
This will be the sixth year for the Traverse conference, having successfully been held in Cardiff, London, Newcastle and Rotterdam in previous years.  The UK based Traverse (Travel Blogger & Social Media Influencers gathering) event was organized for the 6th consecutive year with over 400 attendees including travel bloggers. At this event, Mr. Dushan Wickramasuriya and Mr. Chaminda Munasinghe, Assistant Director VJP, represented the Sri Lanka Tourism Promotion Bureau.