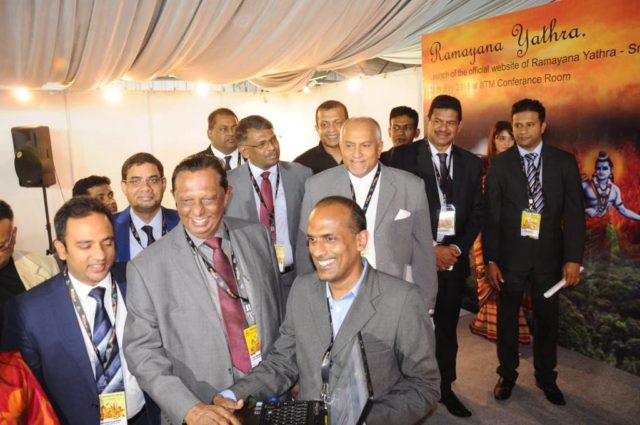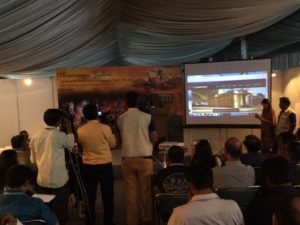 With Indian tourist arrivals expected to grow by 20 percent in the coming year, Sri Lanka Tourism is reviving an enticing and ancient trail, the Ramayana Yathra which is steeped in mythology and mystery for those making this journey of faith yearly.
The epic story of Ramayan, well known the world over is revered for its connection to cultures in India and Sri Lanka. The historic sites replay a story that has gained credence over millennia's and special reference in Hindu and Buddhist scriptures. A website dedicated to this trail 'Ramayana Yatra' was launched at the second day of the 106th edition of the 'India International Travel Mart' (IITM) in Bangalore. A video which was produced by TV9 India in Sri Lanka during the press trip, arranged under the Visiting Journalist Program of SLTPB was telecast at the event.
"Sri Lanka is a proud custodian of more than 50 sites which are directly connected to legendary story and supported by the local folklore and linguistic connection.  This website facilities every curious visitors quest for information, imagery and history," said Sutheash Balasubramaniam Managing Director, Sri Lanka Tourism Promotion Bureau.
In Sri Lanka, it is a widely popular belief that this story is a true historical account of incidents which took place. This belief is backed by extensive research, analysis and reasoning which has culminated in the launch of this website. The website refers to the specific names of the locations and villages where the sites are situated. This makes it easy for both travellers and tour operators who create travel plans and revisit a journey.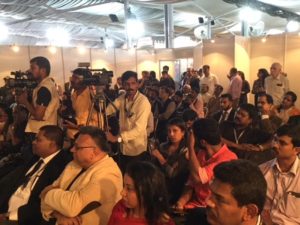 "The Tourism Promotion Bureau has gone to great lengths to identify these places, unearth their rich history and weave the cultural connotations which make these sites unique and historical," added Balasubramaniam. "At present only 20 sites are recommended for travel due to ease of access and can be explored in a span of less than two weeks."
Minister of Tourism John Amaratunga, who launched the website, said that Indian travellers showed keen interest in visiting these Ramayana sites. "We realised this. Proper identification of the sites was needed. So the Ministry of Tourism went deep into tracing all of it." he said.
V.Krishnamoorthy, Deputy High Commissioner, Sri Lanka Deputy High Commission, said India was the number one tourist market for Sri Lankan tourism adding that during the last six months, over two lakh Indian tourists had visited Sri Lanka and that the Ramayana Yathra was to make people aware of over 50 sacred sites in Sri Lanka.
The Sri Lanka Tourism Promotion Bureau are presently actively working towards creating awareness of this important part of history. Legends are associated with sites which are said to be a crucial part of the epic, such as the place of Sita's captivity to the battlefields of war where Rama slew Ravana, including Sita Kotuwa, Gurulupotha, Nagadeepa, Sita Pokuna, Sita Amman temple, Kataragama, and Kelaniya. The event was attended by 50 media personnel.
Sri Lanka is looking at a near 20 percent rise in travellers from India in the coming year. Apart from tourists and business travellers, the country is presenting itself as a MICE (meeting, incentives, conventions and entertainment) destination.