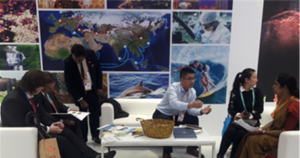 With two product pavilions and a Sri Lanka country promotion pavilion the Export Development Board (EDB) was able to create an  impressive impact at the China International Import Expo (CIIE) held in Shanghai recently
The China's first import expo held at the national level is an innovation in the history of global trade. The 1st CIIE was held at the National Exhibition and Convention Centre (NECC) and organized by Ministry of Commerce of the People's Republic of China and   Shanghai Municipal People's Government supported by the World Trade Organization and the United Nations Industrial Development Organization and organized by the China International Import Expo Bureau and the National Exhibition and Convention Center (Shanghai) Co., Ltd.
172 countries, regions and international organizations, more than 3,600 companies with a total exhibition area of 300,000 square meters, and more than 400,000 Chinese and foreign buyers attended this mega event and explored business deals.
The 1st CIIE has provided an excellent platform for the participating Sri Lankan companies to enter into the Chinese market and further consolidate the existing market linkages. This will result in the increase of Sri Lanka's exports to the China market.
China was the 6th export destination of Sri Lanka in 2017 with US $ 415 Mn. worth of exports contributing to 3.6 % of total export earnings of Sri Lanka. On the other hand, China was the 2nd import origin for Sri Lanka with US $ 4,605 Mn worth of imports which accounts 19.6 % of total imports. This situation has created the need for reducing the trade gap between the two countries by building better market access for the established Sri Lankan export products such as tea & gems & jewellery and diversifying in to other potential product sectors such as rubber products, apparel, coconut kernel products, processed food etc.
The Chinese economy is developing steadily with a medium-high speed of growth. In the following five years, China is expecting to import goods and services worth more than ten trillion USD, which provides a historic opportunity for enterprises to enter the huge Chinese market.
Six government organizations–Sri Lanka Tea Board, National Gems & Jewellery Authority, Sri Lankan Airlines, Sri Lanka Tourism Promotion Bureau, Coconut Development Authority and three investment promotion projects joined the Sri Lanka National pavilion to showcase the strength of the country in the sphere of trade, investment, travel & tourism. Sri Lanka participated at many parallel Forums, Business meetings and B2B Sessions to make maximum of Sri Lanka's presence at the Fair.
Eleven  tea companies (Euro Asia Corporation (Pvt) Ltd, Euro Scan Exports (Pvt) Ltd, Food & Nature (Pvt) Ltd , Tea Talk (Pvt) ltd, Sinolan Tea ( Pvt) Ltd , Sunshine Tea (Pvt)Ltd , Mabroc Teas (Pvt) Ltd, Russel's Group of Companies,  Lions Management (Pvt) Ltd, Samley Teas (Pvt)Ltd, World Mart Ceylon (Pvt) Ltd), 5 coconut kernel products companies (Hero Nature Products (Pvt) Ltd, Tradlanka Agricultural Enterprices (Pvt) Ltd, Wichy Plantation Company (Pvt) Ltd, A.S.Agri Exports (Pvt) Ltd, Kaushalya Organic Industries (Pvt)Ltd) a company producing chemical paint for food processing companies (Ferrow Chemicals (Pvt) Ltd) a spice company (Rathna Producers Cinnamon Exports (Pvt) Ltd      ) and 11 gems & jewellery companies (Githsara Gem & Jewellery , Roshan Gem Centre, Gamini Gems  & Jewellery (Pvt)Ltd, Piyasiri Gems (Pvt) Ltd, Oriental Gem Craft, The Choice, Sun Shine Gems & Jewellers, Solar Gems Jewellery (Pvt) Ltd, Premadasas Gems & Jewellery (Pvt) Ltd, Vogue Jewellers (Pvt) Ltd, Regal Gems) joined hands with the EDB to showcase to quality Sri Lankan products to the discerning Chinese buyers.
Sri Lankan companies in the food & agriculture sector too achieved their objectives in participating at  the CIIE. They were able test market for demand, acceptance & competitiveness, identified & appoint agents/representatives/distributors, entered into agreements and some of them had introduced new products to the market.
The Managing Director of World Mart Ceylon (Pvt) Ltd (WMC)Mr. Thushan Jayasundara  stated that "the exhibition was a success for World Mart Ceylon (Pvt) Ltd. We have appointed a sole agent in China and also there are 36 agents who are interested to do business with us and right now we are negotiating with them. We also received of $ 15000 to $ 17 000 initial orders by this visit".
The Marketing Director and Deputy Chairperson of Kaushalya Organics Industries (Pvt) Ltd Mrs. Kaushalya Wijesinghe said that "the participation at CIIE was extreme worthy and received inquiries for organic virgin coconut oil and moringa tea in a considerable quantity on each on the spot".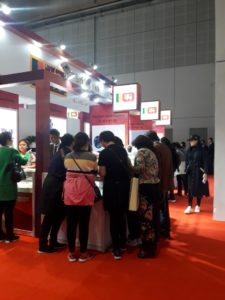 The visitors at the Expo were of high standards with the real business interest. Sri Lanka pavilions attracted many a Chinese & foreign business decision makers who were interested importing Ceylon tea, coconut products, spices, processed food products, gems & jewellery, rubber products, handicrafts etc. and investors and tourist & travel interests.
Considering the outcome of Sri Lanka's participation this year and the requests of Sri Lankan participating companies, the EDB wishes to organize this event in the next year as well with the objective of diversifying Sri Lanka's export product basket to China and to increase Sri Lanka's exports to China.