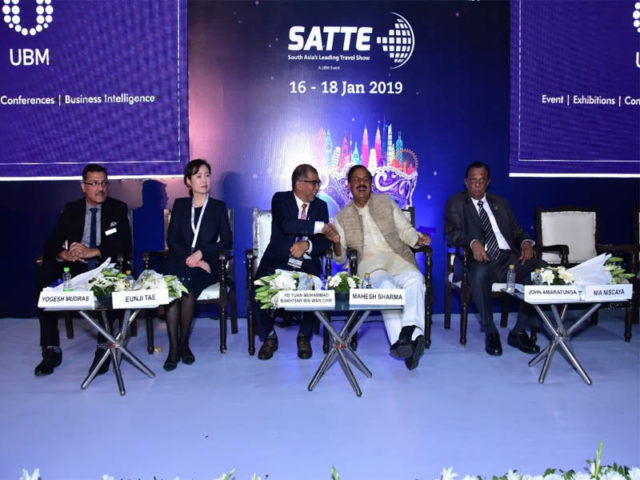 India's biggest travel and trade engagement show 'SATTE' held at the India Expo Centre, Greater Noida from 16th to 18th Jan 2019. In its 26th edition, the three-day event bagged an excellent response with market leaders increasing their stand size, followed by participation from the cross section of global and Indian travel and tourism markets. The show is marked by 1,000 exhibitors and representation from over 50 countries and 90 cities from across India.
Sri Lanka Tourism Pavilion at SATTE was inaugurated   by John Amratunga ,Minister of Tourism Development , Christian Religious affairs  & Wildlife , along with Austin Fernando ,Sri Lanka High Commissioner in New Delhi ,Mr.Felix Rodrigo ,Senior Advisor to the  Minister of Tourism Development ,Wildlife &  Christian Religious   Affairs ,Ms.Upekkha Samaratunga ,Minister (commercial ) Sri Lanka High Commission in New Delhi ,Mr.Chinthaka Weerasinga ,Manager ,Sri Lankan Airlines –North India and Industry participants.54 Sri Lankan companies participated at SATTE 2019, which is the highest ever participation in the  history  related to Sri Lanka's participation at the fair .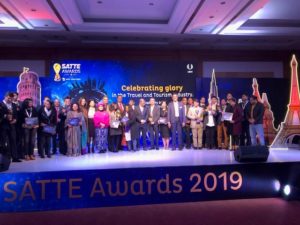 The expo was inaugurated by Dr. Mahesh Sharma, Union Minister for State for Culture (I/C), Government of India, along with  Minister of Tourism Development, Christian Religious Affairs and Wildlife, John Amaratunga,  Mr. YB Tuan Muhammad Bakhtiar bin Wan Chik, Deputy Minister of Tourism, Arts and Culture Malaysia; Ms. Nia Niscaya, Deputy Minister of Tourism Marketing, Ministry of Tourism of the Republic of Indonesia, Ms. Eunji Tae, Officer, Regional Department for Asia and the Pacific, UNWTO; H.E Austin Fernando ,Sri Lanka High Commissioner in New Delhi ,Mr. Subhash Goyal, Member, National Tourism Advisory Committee.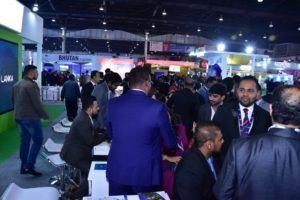 True to its reputation as a comprehensive B2B platform catering to domestic and international buyers and professionals from across the travel industry, tourism and hospitality industry along with National and State Tourism Boards (NTOs and STOs), SATTE 2019 enabled professionals conduct business, arrive at solution-driven innovations to counteract economic uncertainties, and promote inbound, outbound and domestic tourism in India. This year, it was promoted among international tourism boards as well.