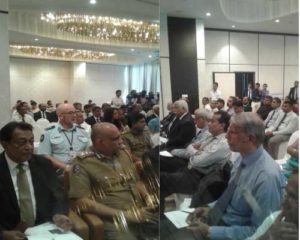 The National Police Commission (NPC) of Sri Lanka today announced the launch of a new web based Public Complaint Management System (PCMS). The system will significantly contribute to NPC's vision of fostering a safe, secure and peaceful society through a credible, independent and professional Police service.
The PCMS is the first comprehensive information management system operationalized at the NPC,  and will enable the public to submit their complaints via a simple web-based interface. The system can be accessed via an electronic device from any location at https://www.npc.gov.lk/ and users can monitor the status of their case after submission, using a unique reference number. The new system will also significantly expedite the processing time of cases by streamlining communication between the nine provincial offices of the NPC and its headquarters in Colombo.
Meanwhile, the PCMS will provide the Commission with greater capacity for monitoring the total number and nature of cases in the system. This will enable them to identify backlogs as they build and take appropriate action. The data collated through the system will also help the NPC glean broader trends and patterns, helping them identify both the successes and challenges faced by the Sri Lanka Police.
Commenting on the roll out of the new system, Mr. Saman Dissanayaka, Secretary of the NPC claimed that he strongly believes that "the PCMS will help inspire greater confidence among the general public in the efficacy and the integrity of Sri Lanka Police. Winning the trust of the public is an essential ingredient to the success of any Police force around the world."
"An independent and professional Police service is indispensable to the overarching peacebuilding process in Sri Lanka. IOM is proud to have contributed to this endeavor," said Mr. Sarat Dash, Chief of Mission of the International Organization for Migration (IOM) in Sri Lanka.
The PCMS project was financed by the United Nations Peacebuilding Fund and implemented by IOM Sri Lanka.
For more information please contact: Saman Dissanayaka, Secretary of the National Police Commission. Tel: 0716506662E-Mail: liyamedia@yahoo.com