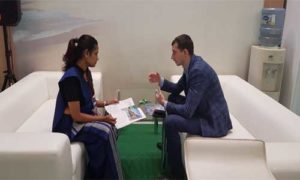 Sri Lanka Tourism Promotion Bureau (SLTPB) consolidated its So Sri Lanka' brand idea whilst showing the best the country has to offer to European tourists at the recently concluded Ukraine International Travel and Tourism Fair (UITT).
This is the 25th successful consecutive year of the fair which took place at the Ukraine International Exhibition Centre from March 27th to 29th this year. The fair witnessed the participation of over 800 exhibiting companies representing over 70 destinations from around the world.
SLTPB participated at this year's UITT with five travel industry participants representing one hotel and four travel companies. The Sri Lanka stand was ceremoniously opened by Mr.P.M. Amza Ambassador of Sri Lanka to Turkey, Ukraine and Georgia on the 27th.
Speaking at the occasion the Ambassador stressed the importance of promoting Sri Lanka as a destination for the Ukraine Market which has a huge potential. He also appreciated the interest from the travel trade to promote Sri Lanka in the Ukraine.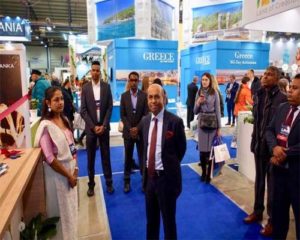 In addition to this fair, he encouraged the trade participants to carry out more promotional activities in Ukraine in cities like Kiev, Odessa, Harkov, Lviv and Dnipro where there is much interest on Sri Lanka. He mentioned that it would be productive to hold familiarization tours for Ukraine outbound tour operators as well as media familiarization tours. He also held discussions to promote other CIS countries such as Georgia, Armenia, Azerbaijan and Kazaksthan.
Sri Lanka Travel trade was represented by the travel companies such as Aitken Spence Travel, Tangerine Tours, Apple Holiday, Clover Lanka and hotels Lanka Super Coral.
Sasika Jayaweera, Assistant Director of the SLTPB who handles the Russia and CIS markets represented the Sri Lanka Tourism Promotion Bureau at this travel fair. Sri Lanka attracted 36,515 tourists from Ukraine during 2018.