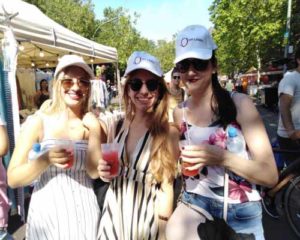 Sri Lanka Tourism Promotion Bureau showcased quite a vibrant display of destination Sri Lanka at the recently concluded Carnival of Cultures (Karinival der Kulturen) which was held in Berlin from 7th to 10th June this month.
The Carnival of Cultures is an annual event, famed as a street festival which attracts throngs of tourists not only from Germany but from other parts of the world as well.
 This street festival celebrates the cultural diversity converting the streets of Berlin to a stage for cultural performance of all parts of the world.  The event reflects many facets of Germany where people of many different origins and cultural background gather to present the glamour of their original cultural affiliations on the streets of Berlin.
This event attracts approximately 1 million live spectators and over 7 million on TV.  Cultural Groups/Cultural organizations from over 80 countries, cultural organizations entertain visitors from all parts of Germany during the 7-hour parade displaying their cultures with music, dance, on a parade of decorated floats highlighting their cultural themes and mottos. The street parade extends at a length of 7 km in the heart of Berlin through Whitsunday. In addition, there are around 400 stands scattered around the exhibition venue and stages are allocated for musical & cultural performance during the period.
Sri Lanka Tourism Promotion Bureau represented with a dance group of 16 members of the Army band & performing Arts through Sri Lanka Association in Berlin, with the help of Sri Lanka Embassy in Berlin.
Sri Lanka Tourism brochures, souvenirs and giveaways were distributed at the Sri Lanka stand, including an SLTPB information counter which gave a thorough description about Sri Lanka to encourage travel enthusiasts to have a memorable and an exclusive experience.