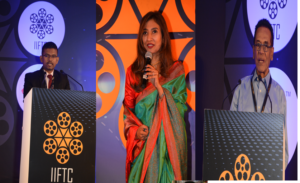 Sri Lanka, with its wide diversity of picturesque sites, was able again to showcase its potential as an ideal film location in South Asia at the India International film Tourism conclave (IIFTC 2018), held for the 5th consecutive year from March 1st to 3rd.at the Marriot Hotel , Juhu .
Sri Lanka Tourism participated in India's leading film location fair for the second successive year with the main purpose of developing Sri Lanka as a film tourism hotspot to cater to the overall Indian Cinema.
During the three day event some of the high profile Indian film directors including Tharun Mansukhani (Bollywood) assistant director, Screen Writer and director, known for Kuch Kuch Hota Hai (1998) with Shahrukh Khan and Kajol and Kal Ho Naa Ho (2003). Kunal Kohil (Bollywood) – known for Hum Tum (2004), Teri Meri Kahaani (2012) and Fanaa (2006) with Amir Khan, Imtiaz Ali (Bollywood) – Jab We Met (2007). Love Aaj Kal (2009) and Rockstar (2011), David Dhawan (Bollywood), Allu Arvind (Telegu), and KV Anand (Tamil) visited Sri Lanka Tourism's promotional stall located at the site.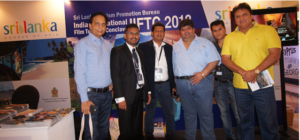 With the participation over 20 other competitive destinations, Sri Lanka Tourism highlighted the Island's potential as an ideal film location  by showing breathtakingly beautiful locations of the paradise island to the leading film producers who participated from  across India representing the heart of the Indian film industry, the Bollywood cinema and the other regional industries including Kollywood (Chennai), Marathi, Bengali,etc. The destination presentation conducted by Sri Lanka Tourism took the attention of all the other competitors who looked with amazement and wonder at the breathtaking  beauty of the country.
The Video presentations of Sri Lankan attractions and the informative brochures distributed at the Sri Lanka stall drew the attention of many visitors, and members of the film industry, highlighting the lush greenery, cultural splendour, and exquisite beaches, and many more pleasures which Sri Lanka has to offer, equipped with all the natural resources that it needs. During the presentations, Sri Lanka Tourism further highlighted that with a distance of less than 2500km to the heart of Bollywood and having frequent flights from all around India to Colombo, Sri Lanka is a location that India must not neglect. Opportunities of depreciated LKR, dynamic visa process, zero cultural shock and rich local film industry equipped with European standard production equipment, the arrival of more and more Indian Cinema productions to Sri Lanka is expected to proceed through the next few years.
In addition to Sri Lanka Tourism Promotion Bureau's (SLTPB) efforts in the destination promotional campaign, Sri Lanka Consulate General for Mumbai, Ms. Saroja Sirisena and the respective members of the Sri Lanka mission in Mumbai, India offered their maximum support to Sri Lanka Tourism. The delegation which represented Sri Lanka included renowned international film and commercial producers such as Chandran Rutnam of Asian Film Location Services (pvt) Ltd, Rasitha Jinasena , Shy Entertainers (pvt ) Ltd, Priyanga  T. Kumarasiri , crew for shoots, and Thishantha Shyaman Premasundara , Frames TV  and Film production .
During the Sri Lanka destination presentation, industry veteran Mr. Chandran Rutnam stated:  ''as a compact destination with various natural and manmade wonders located just few kilometres away to each other, Sri Lanka is a perfect contender to compete for the Indian Cinema as a rich and diversified locations provider for various Indian films.'
Indian silver screen is one of the busiest film industries in the world with a production of  approximately about 2000 films annually mainly through Hindi and Tamil, including other regional languages such as Teligu, Marathi, Bengali. Over the years, Indian cinema industry has been contributing a lot to the national economy as well as to other international destinations. While having rising influence towards foreign economies, the interest from Indian cinema to explore new filming locations in overseas has shown significant growth by creating new opportunities for the hosting countries.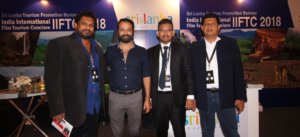 Even international travel & tourism sector has directly benefited through Indian Film Tourism. While having an emotionally connected diehard fan base, Indian cinema is able to influence millions of fans to travel abroad to explore locations where their favourite films had been shot. Indian cinema fans do not hesitate to gain such experience as part of their holiday experience, especially in a location which is only 2500km away from the heart of Bollywood Cinema.
(Courtesy : Sri Lanka Tourism Promotion Bureau)