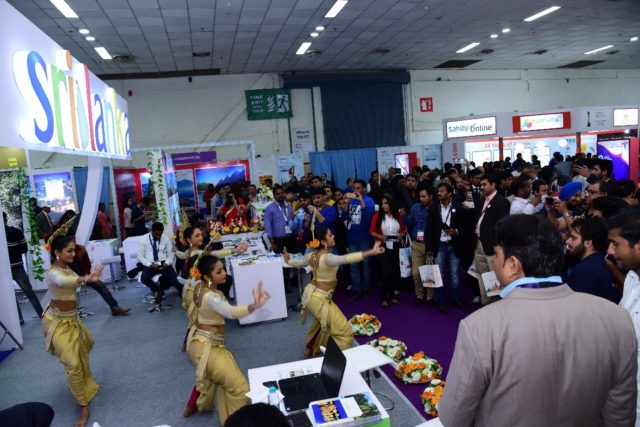 Sri Lanka Tourism continued its quest to target more Indian tourist arrivals this year by participating at the SATTE – 2018, the Travel and Tourism trade show which was held in New Delhi from January 31st to February 1st. The Sri Lankan pavilion at the show proved to be an outstanding attraction among the rest of the stalls, due to its bright, uniquely combined colors and attractive themes. This year, Sri Lanka Tourism Promotion Bureau (SLTPB) was joined by 52 leading travel agents and hoteliers who were keen on expanding their ventures in the Indian market. SATTE 2018 proved to be an excellent investment for Sri Lanka Tourism due to the unprecedented crowds that thronged the exhibition from the start to the finish. Industry personnel that participated at the fair noted that productivity compared to other travel exhibitions was exceptionally high. The participation, interaction, enthusiasm, and thirst for information was clearly visible throughout the entire fair.
The Sri Lankan delegation consisted of Mr. Felix Rodrigo, senior advisor to Hon. Minister of Tourism Development and Christian Religious Affairs, Managing Director, Sri Lanka Tourism Promotion Bureau, Mr. Sutheash Balasubramaniam , and other senior officials, also joined by Sri Lanka High Commissioner for India , H.E Ms. Chitranganee Wagiswara , and Ms. Upeka Samaratunge , Minister ( Commercial) of the Sri Lankan  Commission in India. The Sri Lankan pavilion of the SATTE Fair was ceremoniously opened by them amidst a distinguished gathering. Colorful dance performances entertained the crowd while they visited the Sri Lanka pavilion to seek information and eager to find out what Sri Lanka had in store for them. It was noteworthy that most of the visitors to the pavilion comprised of top decision makers in the Indian travel industry.
At the Travel and Tourism Trade show SLTPB focused its attention on promoting film tourism, Destination Wedding, MICE segments, religious and Pilgrimage Tourism, mostly on Ramayanaya Trail, which was given more prominence as it seemed to be very popular among the Indian tourists and devotees. A large number of Indian devotees visit Sri Lanka as the Ramayana trail and places related to Ramayana are considered sacred. Ayurveda, cultural diversity and Bio diversity are some of the key attractions Indians find exiting as well. India is also a top source for MICE Tourism and SATTE 2018 was an excellent platform to access this lucrative market.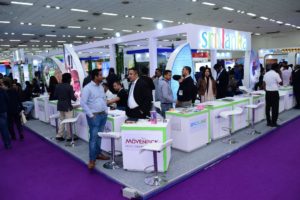 According to a survey done by SLTPB , 63.7 % of Indians opt for sightseeing excursions and 49.82% go for shopping while 41.64% prefer sea bathing and 32.74% spend hours swimming in the pool. 37.01 % Indian travelers visit the historical sites in Sri Lanka while wildlife remains to be the choice for 21 % only. The overall experience of the Indian visitor to Sri Lanka is as per the survey, has been very delightful for 69.1% and satisfying for 30.69%. Thus, it would be right to mention, that nearly 100% Indians visiting Sri Lanka have had a good and enjoyable visit. The other important highlights of the survey show that, 44.84% Indians came home with a memory of Sri Lanka being a beautiful, tropical country, 29.54% say that the people of Sri Lanka are very kind and hospitable, 24.2%talk about the pristine beaches with golden sand, while 24.20% loved the diverse attractions on this small island. Sri Lanka, in today's date takes immense pride in 30 .25% Indians who knew the country well and wanted to visit again.
These statistics clearly indicate the importance of Sri Lanka as a compact destination blessed with all the natural resources, Bio diversity, cultural heritage, pristine beaches and the amazing hospitality of its inhabitants.
In addition at the press conference held in New Delhi, it was announced 384,628 Indian visitors had arrived in 2017 and also that Sri Lanka was targeting 450,000 Indian arrivals this year.Addressing the media  Managing Director, Sri Lanka Tourism Promotion Bureau, Mr. Sutheash Balasubramaniam said, ''India continues to be our top source market. We believe that the potential of the Indian travel market is yet to realize in terms of attracting longer stay and higher spending travellers.It is our fervent hope to make Sri Lanka the most preferred destination in Asia for Indian travellers. Sri Lanka offers travellers an array of diverse product offerings and experience spread across the small island and caters to all ages. ''
(Courtesy : Sri Lanka Tourism Promotion Bureau)