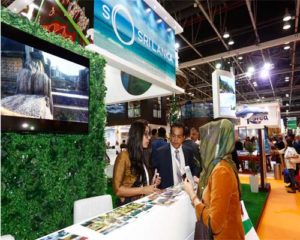 With the participation  in the Arabian Travel Market(ATM), Sri Lanka tourism industry has displayed its defiance in countering the negative publicity that came about after the deadly attacks on Easter Sunday.
The opening of the Sri Lanka Tourism pavilion at ATM took place observing two minutes silence in honour of the people who died as a result of the horrendous terrorist attack.  A book of condolences was placed at the Sri Lanka pavilion for visitors to sign and write their messages of sympathy to the families of the victims.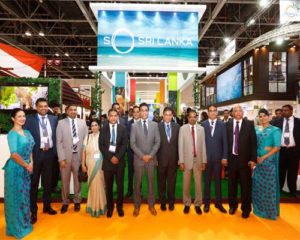 The Arabian Travel Market is a travel and tourism event, organized annually in Dubai, and its the largest tourism event which provides global exposure and business & travel opportunities for the tourism sector in the Middle East. The 25th edition of the  ATM kick started at the Dubai World Trade Centre on 29th of April. Sri Lanka Tourism Promotion Bureau (SLTPB) has been participating at this event since 2003 along with the members of the travel and tourism industry in Sri Lanka. This year 60 members of the industry who have pledged to take part have affirmed that participation was key to help Sri Lanka in bouncing back resiliently.
Participation at the ATM has given the opportunity for Sri Lanka Tourism to brief the international hoteliers, Destination Management Companies (DMCs) and the global media on the current situation, steps taken by the government to support the tourists affected and to re-assure the world that all possible measures have been taken to ensure the safety and security of tourists. A press conference has been organized by SLTPB. A large number of international journalists and TV channels are expected to attend the briefing.
The Sri Lanka tourism industry stands united with the rest of the world against terrorism; as we mourn this horrific tragedy, we must move forward with our enduring Sri Lankan resilience to restore the worlds faith in our beautiful island home and our hospitality which is the heart of the Sri Lankan way of life.