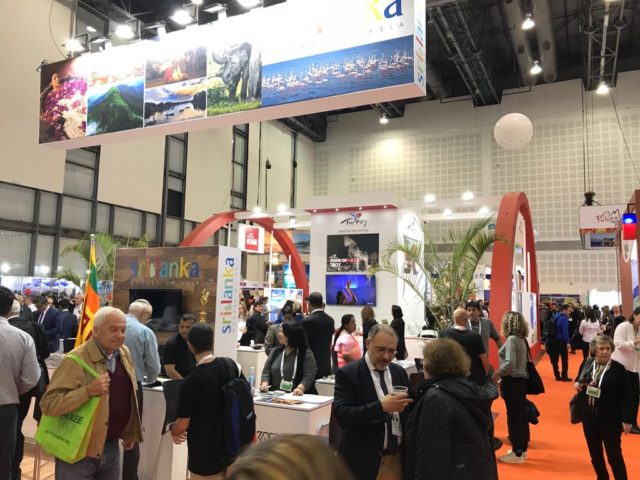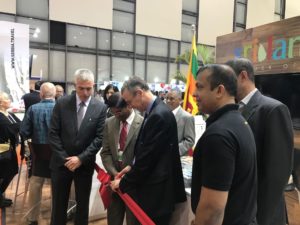 Sri Lanka Tourism showcased its splendor in the Mediterranean by participating at the International Mediterranean Tourism Market (IMTM) travel fair which was held from February 6th-7th at the  Tel Aviv Convention & Exhibitions Center, Israel.
Mr.   P. Selvaraj , ambassador for Sri Lanka in Israel, together with  the Sri Lankan Embassy in Israel gave its full support in making this effort a success.  The 2018 fair was the 24th edition of IMTM, which was established in 1994. This year, the Sri Lankan delegation included 8 travel companies, namely as, Deluxe Vacations (PvT)Ltd, Amaya Resorts & Spas, Hayleys Tours (Pvt) Ltd, Nawamini Travels (Pvt) Ltd, Saffron Island Destination Management (Pvt) Ltd, World Travel Centre colombo (Pvt) Ltd, Aitken Spence Travels ( Pvt ) Ltd, and NKAR Travels  &  Tours  Pvt. Ltd.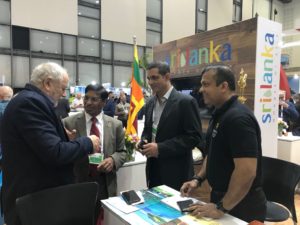 The Sri Lankan Pavilion at the fair drew the attention of the visitors with its usual creativity, attractiveness, including a wide range of tourist attractions which Sri Lanka has to offer, such as nature, wildlife, cultural festivals, heritage, ancient  cities and monuments which dates back to thousands of years, authentic and mouth-watering Sri Lankan cuisine including herbs and spices which are quite similar to those used in the Mediterranean , and especially a sip of the famous Ceylon Tea. The main objectives of this participation was to create awareness on Tourism products of Sri Lanka in Israel, promoting Sri Lanka Tourism in Israel, popularizing Sri Lanka tea among Israelis, and to provide opportunities for the Sri Lankan tour operators to have one to one meetings with Israel counterparts, and developing their business contacts.
SLTPB has identified the Middle East as an important source market for Sri Lanka tourism, as SLTPB has been participating at IMTM in the past with the growing number of interest shown by the industry. Israel is the third largest tourist generating market for Sri Lanka from the Middle East. In 2017, IMTM attracted over 1,550 exhibitors from over 52 countries as per the organizers, and 28,000 visitors attended the fair in 2017. In 2018, over 50 countries from Europe, Asian Pacific and Latin America are expected to attend the event. The ORTRA Ltd and Israel Travel News Ltd were the main organizers of the "IMTM Fair", sponsored by Israel Ministry of Tourism.
IMTM 2018 travel fair  included Conference Centers, National & Regional Tourist Offices, Spa & Golf Resorts, Hotels, Car Rental Companies, Cruise Lines, Ground Agents, Airlines, Destination Management Companies, Tour Operators, Trade Publications, Trade Associations and Technology Providers.
In 2018, Sri Lanka targets 15,000 tourist arrivals from Israel, and intends to encourage high spenders from Middle East to visit Sri Lanka and enjoy a holiday worth their expenditure. Another target will be to increase the arrivals of travel journalists, tour operators and bloggers to Sri Lanka, to mark Sri Lanka's name on the global map, as a safe an enjoyable destination for the ideal traveller.
(Courtesy : Sri Lanka Tourism Promotion Bureau)