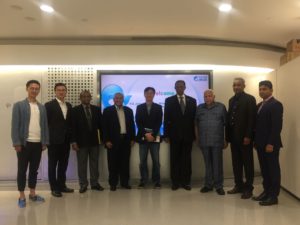 Sri Lanka established its successful participation by receiving the award of "Most popular tourist destination of Asia'' at the Shanghai World Travel Fair (SWTF-2018) which was held from 24 th to 27th May 2018, at the Shanghai Exhibition Centre, China. Sri Lanka Tourism participated at the fair in collaboration with the Consulate General Office in Shanghai, and also held a roadshow in parallel to the event, on the of May 22nd  2018, in order to create an effective and an efficient platform for networking between the travel trade of the two countries. Traditionally, China has been one of the most crucial source markets for Sri Lanka with the influx of Chinese tourists to Sri Lanka each year.
The Sri Lankan pavilion at the fair was declared open by Minister of Tourism Development and Christian Religious Affairs, John Amaratunga, with the  participation  of  Mr. Felix Rodrigo, senior advisor to the Minister, Mr. Chinthaka Liyanarachchi, Assistant Director, Sri Lanka Tourism Promotion Bureau and Mr. Lakshitha Ratnayake, Sri Lanka Consul General in Shanghai and other officials and industry participants. The promotional campaign covered the three main cities of Shanghai, Nanjing & Chengdu.
Sri Lanka Tourist Promotion Bureau (SLTPB) was joined by 16 industry participants including Deluxe Vacations (Pvt) Ltd, Viluxur Holidays,Travel Trends Leisure (Pvt) Ltd, LSR, Jetwing Travels, Global Holiday Tours (Pvt) Ltd, Serene vacations, Bernard Tours (Pvt) Ltd, Jagath Tours and Travels , Exotic Global Holidays, Jaya Lanka Tours (Pvt) Ltd, Smart Lanka Visitors (Pvt) Ltd, Aitken Spence Travel (Pvt ) Ltd, Green Holiday Centre, Riu Hotels &Resorts , Riu Sri Lanka and Sri Lankan Airlines. This mega event was held for the 15th successive year, in which Sri Lanka has been a regular member.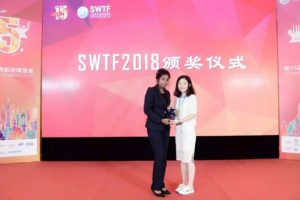 During his visit to Shanghai, the  Minister also held important meetings with Ms. Xu Weiwan, Chairman, Shanghai Tourism Administration, to increase tourist traffic and possible connectivity from Shanghai to Sri Lanka. It brought positive results in encouraging Ms. Weiwan to lead a delegation of tourism officials and industry experts in order to discover the diversity flight forum resources available in Sri Lanka.  The Hon. Minister also paid a visit to the largest online travel agency (OTA) C trip and held successful discussions with the CEO and the team. In Nanjing the Minister had an opportunity to visit the second biggest OTA in China, Tuniu & engaged serious discussions once again to enhance the Traffic of F.I.T travel segment toward Sri Lanka. In Chengdu the Minister & his delegation participated at the Sri Lanka Tourism Product Promotion Forum.
The Minister also had a great opportunity to visit Sichuan Airlines at their headquarters and engage in serious discussions with CEO & his team. Sichuan Airlines is currently on the process of commencing direct flight operation between Chongqing & Colombo and they requested the Minister to facilitate them in formalizing all ground handling arrangements.
Shanghai is a city which has direct air connectivity by Sri Lankan Air Lines and China eastern, and further, there are also grater options of transit air connections by many other international airlines, which provides a healthy environment to promote Sri Lankan tourism in China. Shanghai is one of the top cities which generates out bound tourism in China.  Hence there is a high potential to develop Shanghai as one of the best tourist generating market place for Sri Lanka to attract more Chinese tourists. Therefore, China has a high potential of being a successful contributor to boost up the tourism sector in Sri Lanka.
The participation at the Shanghai World Travel Fair 2018 was able to create an effective interest among the Chinese investors and visitors who were keen to spend their next vacation in Sri Lanka. During the month of April 2018, tourist arrivals from China were recorded as 98,767 and has been 11.9% increase, which was a considerable growth, compared with the same period last year.