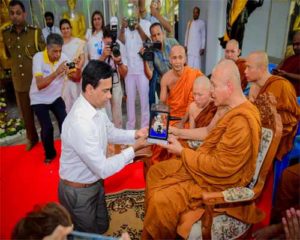 Marking one month since the Easter Terror Attacks, a group of 80 Thai tourists on pilgrimage led by the Maheyong Monastery Chief Prelate Ven. Phra Bhawana khemakum arrived in the Island on 21st May to embark on a spiritual and cultural tour were warmly welcomed by officials of the Sri Lanka Tourism Promotion Bureau at the Bandaranaike International Airport.
The arrival of the delegation, is the first of its kind since the deadly attacks on Easter on April 21 in Colombo and suburbs. The delegation which pursued their travel to Sri Lanka with much enthusiasm even after it was cancelled, wished to convey a sense of hope that the country and its tourism industry is returning to normalcy.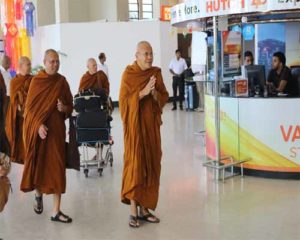 The Buddhist delegation is led by Most. Rev. Phara Bhawana –Khemakum maha thero, the chief prelate of the Maheyong Monestery in the Kingdom of Thailand.  He is accompanied by five other disciples and 70-members of the dayake group who will also be travelling with him. The group will be in the country for six days until May 26th.
 Kishu Gomes, Chairman, Sri Lanka Tourism Promotion Bureau, expressed his thoughts on the visit as thus:
''Being a Buddhist country with Buddhism embedded into predominant culture, a large delegation of Thai devotees led by chief prelate Ven. Phra Bhawana khemakum maha thero , led by several other Buddhist monks in the delegation, the visit is very timely, to send positive messages to the rest of the world , with regards to the prevailing security situation in the country.
Buddhist Tourism, for us, is a new segment that has grown over the past few years. Not just within the region, but across the entire world with a significant number of tourists from the western world visiting the country, to study Buddhist Philosophy and Meditation etc''.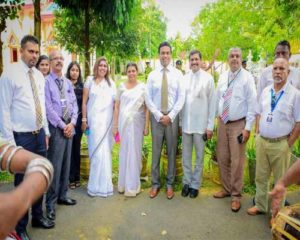 The group took part in an auspicious ceremony to donate a Buddhist statue to the Thai Viharaya in Mabima in Kelaniya. Senior officials of the SLTPB also participated along with the chairman of the Sri Lanka Tourism Promotion Bureau, Kishu Gomes, accompanied by representatives of Bernard Tours Pvt) Ltd.
The group is scheduled to undertake a visit to Hambantota, Kataragama, Kandy and will also tour the cultural triangle before departing. They hope to showcase that Sri Lanka is a safe place to travel to and that the spiritual traveller will find it to be a rejuvenating destination. In Sri Lanka they will be under the custodianship of Most Venerable Rassagala Seewali Thero who has entrusted Bernard tours with the ground handling of this group.