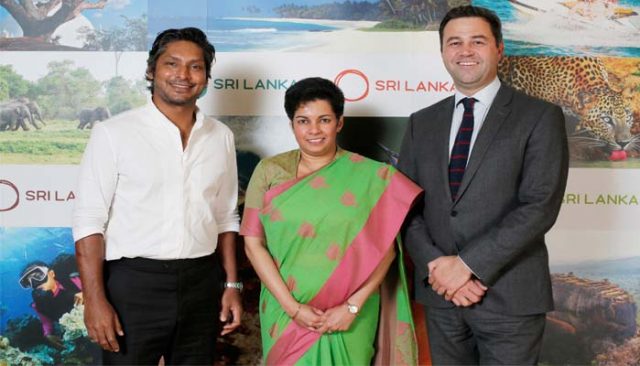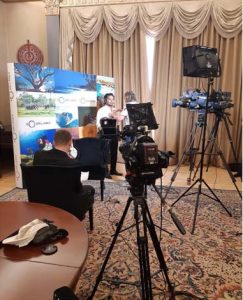 Sri Lankan Tourism Promotion Bureau will be the Premier Partner at WTM London 2019 as the island's tourism industry continues its resolute recovery following April's incident. The high-profile partnership will ensure global coverage for Sri Lanka, which has also teamed with legendary Sri Lankan batsman Kumar Sangakkara to help tourism bounce back. WTM is the leading global event for the travel industry (4-6 November 2019 Excel Docklands).  WTM London brings together 51,000 global travel trade professionals under one roof to find new contacts, discuss business for the next year, and share knowledge to move the industry forward. Through many years (40 years) of experience and by embracing innovation WTM shapes the future of travel and the way business is done. WTM annually facilitate the generation of over $7bn of industry deals.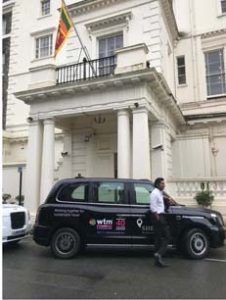 Supporting  the Sri Lanka Tourism Promotion Bureau, Sangakkara  promoted the destination's key tourist attractions which are being marketed under the new brand 'So Sri Lanka'. During an interview announcing the partnership, Sangakkara said: "I am very confident that tourists who come to Sri Lanka will have a wonderful time. I have seen the country recover very well in terms of ensuring the security of both its nationals and tourists from all over the world. Those who come to Sri Lanka want to experience the country in full."
The Premier Partnership deal with WTM London will mean thousands of international travel trade professionals and buyers will see the new 'So Sri Lanka' branding, and hundreds of journalists and influencers will hear about the country's culture, scenery and heritage. The Sri Lanka Tourism Promotion Bureau will share its exhibition space at WTM London (Stand AS200) with 68 travel trade partners, including hotels, travel agencies, resorts and operators – all united in their mission to help the country rebuild its tourism trade.
Tourist numbers plunged by 70% in the wake of April's tragic events but concerted efforts by the Sri Lankan tourist industry mean the recovery is happening faster than expected, according to tourism minister John Amaratunga. The government has suspended visa fees for visitors from many countries and stepped up security across key tourist sites and the international airport.
Tourist arrivals in 2018 had reached a record 2.3 million – worth almost $4.4 billion – and numbers still look set to top two million in 2019.
Key marketing themes under the 'So Sri Lanka' banner at WTM London will be the island's remarkable natural beauty, its rich heritage and welcoming locals. It has almost 1,600 kilometres of palm-fringed coastlines, while the interior offers the chance to explore tea plantations, spice gardens, national parks, lush jungle and waterfalls. Sri Lanka is one of the best places in Asia for spotting wildlife, such as elephants, sloth bears, leopards, wild buffaloes and even the elusive blue whale.
Along with natural wonders, the island has thousands of years of history for visitors to discover, including six cultural UNESCO World Heritage Sites, plus palaces, temples and monasteries.
Visitors can also experience the benefits of Ayurveda, Sri Lanka's traditional art of healing, and restore their body and soul at the island's many wellness retreats and resorts. Furthermore, food and hospitality play a crucial role in the country's culture, with tourists able to enjoy a wide variety of curry and meat dishes, soups, seafood and vegetarian cuisine. Coconut milk is a distinctive ingredient in many meals, and the island is world-renowned for its tea.
WTM London's Senior Director, Simon Press, said: "WTM London is delighted to announce Sri Lanka as its Premier Partner for 2019.
"It has been so heartening to see the country recover from the appalling events last Easter, and it looks set to have a busy winter season. "Being WTM London's Premier Partner means Sri Lanka can entice trade buyers and media from across the globe, which will help visitor numbers return to or even surpass the levels seen in 2018 – boosting the country's economy and helping to provide jobs for thousands of workers."
Over 160 participants from Sri Lanka will attend the event together with a high powered government representation led by Hon. John Amaratunga, Minister of Tourism Development, and Wildlife & Christian Religious Affairs. Mainly to say 'Business is Usual' after 21/4 and to communicate Sri Lanka Tourism's strong recovery achievements. Sri Lanka will be the spotlight destination during the event.
Through this Premier Partnership status, Sri Lanka aims to "win back the popularity for the destination and aggressively promote the diverse tourism offer".
Minister Amaratunga is confident that "Tourism industry is now at a stable position and seeing fast improvements, already rooms are getting filled for next March for the cricket tours, some hotels in the south are currently fully booked, this is good not only for hotels but for all the small businesses dependent on tourism too.  We will be building back our tourism stronger than ever and this particular promotion planned in the UK will create the visibility and drive the arrivals from the UK to a level more than what it was".
Already through the premier partnership launch, creatively executed by the Sri Lanka Tourism Promotions Bureau with the cricketing star Kumar Sangakkara Sri Lanka is gaining wide publicity in the UK, Kumar has highlighted Sri Lanka as a world class tourism hot spot for Brits to travel.
Commenting on Kumar's involvement to help the country, Managing Director Charmarie Maelge said "We are extremely fortunate to have our celebrity cricketer Kumar to help us launch WTM premier partnership in London by participating in SLTPB organized a massive broadcasters day interview sessions with the WTM. He is a one proud Sri Lankan who shared his love for the country covering all aspects of tourism, this is priceless for Sri Lanka Tourism right now.   Kumar is identified as cricketing royalty in the UK with his recent appointment as President of Marylebone Cricket Club, being the first non-British President of MCC to hold this position, he is extremely popular in the UK.  Kumar's invitation to visit Sri Lanka will spread not only in the UK but many other cricketing countries, especially in India, Australia, New Zealand, Pakistan and South Africa. In addition to sports broadcasters we worked with a number of lifestyle channels to build consumer awareness".
SLTPB organized broadcast day was held at the Sri Lanka High Commission in London  with the High Commissioner  Manisha Gunasekara's  attendance and her fullest support and assistance  to promote  Sri Lanka and was attended by , Reuters TV ,Sky Sports News, talkSPORT  who are likely to win the rights for the radio commentary for England's tour of Sri Lanka in March and April 2020. Reuters TV will be syndicated in mainstream media distributing the interview to hundreds of TV stations and websites around the world who subscribe to receive their content. BBC Radio 5 Live- live afternoon show was presented by Nihal Arthanayake who is also a Sri Lankan. Some others were, ESPN Cricinfo- the world's biggest cricket website and  BBC World Service Radio , bbc.co.uk's Stumped,  BBC Asian Network Wisden podcast and the Cricketer magazine podcast.
Following the WTM Premier Partnership launch, there have many other interviews scheduled  such as   BBC Radio 2 Breakfast Show talking to Kumar about "tourism in Sri Lanka", where he gave a passionate interview  about tourism in Sri Lanka, BBC Radio 2 has the highest listenership of any UK radio programme. Second wave of publicity will commence next week at the WTM to continue what Kumar started.  Maelge said with Kumar's invitation to visit Sri Lanka already enquiries for holidays from Brits are coming in and the SLTPB is looking for a busy season. Sri Lanka tourism is very proud that two Sri Lankan companies have been shortlisted for the prestigious International Travel & Tourism Awards that will be held on the 5th November at a brand new venue in London in conjunction with WTM London. Cinnamon Hotel Management Ltd is shortlisted for the Best Digital Campaign in Tourism for TBC Asia 2018 and Santani Resort and Spa – Best in the world for Best in Wellness