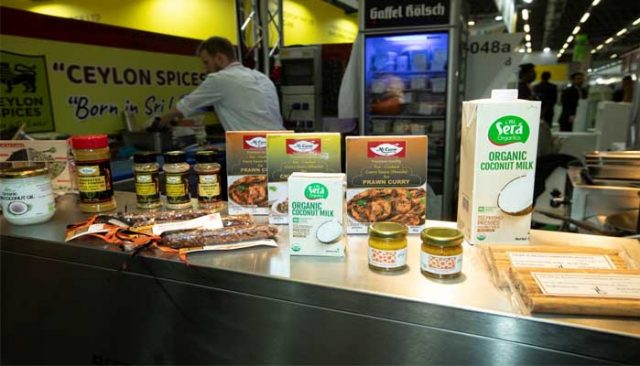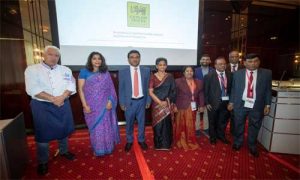 "Ceylon Spice'', the country of origin trademark was ceremonially unveiled at Anuga 2019, the world's largest Food & Beverage exhibition held in Cologne, Germany on  October 6th. The event was attended by Deputy Minister of Development Strategies & International Trade Mr.Nalin Bandara, Mrs. Madurika Weninger, Consul General of the Sri Lanka Consulate Frankfurt, Mrs. Indira Malwatte, Chairperson & Chief Executive of the Sri Lanka Export Development Board, international buyers, Sri Lankan exporters, media and journalists.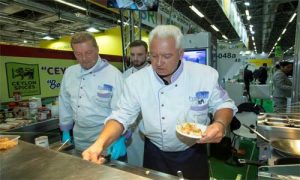 Spices & Concentrates sector has been identified as a priority sector under the National Export Strategy (NES) for export promotion. To "Become globally recognized as an innovative player in the value added spice market segment" is one of its strategic objectives. Therefore, branding of spices is identified as a priority action in the NES to achieve an export target of US$ 880 Mn from the Spices and Concentrate Sector by 2022.
EDB together with the members of the Spice Council, SAPTA and relevant government institutions has developed this National Trademark for Sri Lankan Spices. The Trademark supports growers, processors and manufacturers by helping them to clearly identify their products as Sri Lankan-made, and inform customers and consumers that all significant parts, produce, processing and products are of genuine Sri Lankan origin.
The masterbrand brand architecture places all Ceylon Spices that meet the required standards under one trademark namely – 'Ceylon Spices' which maximizes brand awareness by focusing brand marketing on a single brand strategy and brand image. It also lower brand marketing costs by eliminating the need for separate and distinct logos and imagery.
The 'Ceylon Spices' Masterbrand  has a distinct position, personality, promise and visual and verbal system and all qualifying spices will use the same name, colours and 'Born in Sri Lanka' tagline.
The tagline "Born in Sri Lanka" is defined as follows.
* True Cinnamon Spread to the rest of the world from its native home of Sri Lanka.
*Our Spices are grown from seed to crop and processedexclusively in our island name which has the prime climatic conditions required for their cultivation; perfect soil condition, nourished by monsoon rains, and energized with bright sunlight.
* Age-old knowledge and expertise not found elsewhere in the world. Our spices are handpicked and cared for by farmers, as they have for generations.
* It's brought to you from Sri Lanka, by Sri Lankans, whopassionately understand the value of spices, use them in their favorite meals and dishes, and believe in theirtransformational flavour  and  fragrance qualities.
The "Ceylon Spice'' Trademark is governed by set of regulations to ensure exporters maintain the quality & food safety standards required in the international market for Sri Lankan spices and also to facilitate them to maintain the traceability in their value chains that certified by the Trademark.
The country-of-origin Trademark is administered by the Sri Lanka Export Development Board .Governing mechanism of the Trademark, issuance and monitoring has been developed by the EDB in collaboration with government sector stakeholders; Sri Lanka Standard Institute, Department of Export Agriculture, Industrial Technology Institute and Sri Lanka Acceleration Board. The UNIDO will support to develop the standards in Spice sector. GAP and GMP will be mandatory to use the 'Ceylon Spice' logo on exportable product packaging.
The brand consultant hired by the EDB to develop the Ceylon Spice brand proposition, Mr. Michel Nugawela stated that;
"Just as Sri Lanka lends its personality to indigenous brands, successful brands also influence perceptions of their homeland. The more brands that consumers know are 'Sri Lankan Made', the more likely they are to prefer Sri Lanka as a country-of-origin. This multiplication factor is essential if Sri Lanka-Origin claims are to be represented by a single standard of quality and unity for Sri Lankan businesses in the global market."
Branding is the best marketing techniques to highlight the intrinsic characteristics associated with the Sri Lanka Spices and differentiate them from products from other origins. It will help to differentiate Cinnamon from Cassia and gain the comparative advantage in the international market.
Sri Lanka stakeholders in the spice sector to use this master Brand to maintain the brand and marketing consistency for Sri Lankan spices bringing a specific feeling to the international customers through unique messaging that remains the same across all channels, while keeping up a consistent and reliable stream of content.