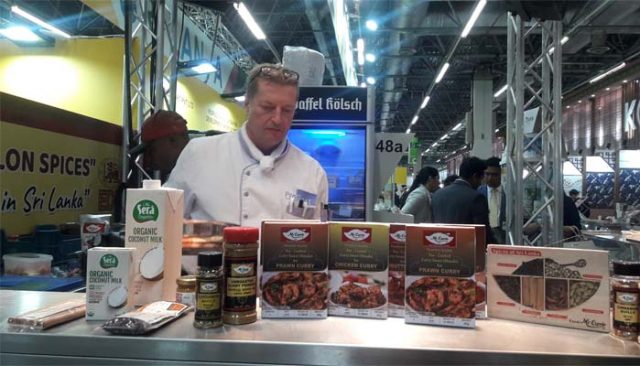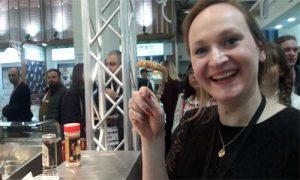 Sri Lanka Export Development Board organized a national pavilion at Anuga Food Fair, the world's largest Food & Beverage exhibition held in Cologne, Germany from 5th-10th October 2019, with the participation of 19 Sri Lankan companies.
Coinciding with the launch of ''Ceylon Spice '' Brand at Anuga Fair, culinary demonstrations were conducted in the Sri Lanka pavilion during the exhibition period to promote the unique characteristics of Ceylon Spices such as aroma, flavor and taste.
The event was attended by Deputy Minister of Development Strategies & International Trade Mr Nalin Bandara, Ambassador for Sri Lanka in Germany, Mr Karunasena Hettiarachchi. Consul General of the Sri Lanka Consulate in  Frankfurt, Mrs Madurika Weninger, Chairperson & Chief Executive of the Sri Lanka Export Development Board, Mrs.Indira Malwatte, international buyers, Sri Lankan exporters and members of the media.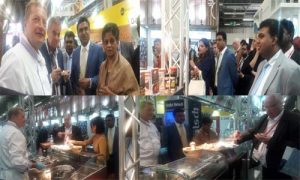 The services of the Colonia Chef Association was obtained to conduct the culinary demonstrations. Mr. Ernest Vleer, the President of the Colonia Chef Association and Mr. Peter, member of the association conducted live cooking demonstrations promoting Sri Lanka spices and other food ingredients both in English and German Languages.
During the 05 days of the exhibition a range of dishes including meat, prawns, fish and vegetables, palatable to German & EU consumers were prepared using the Ceylon spices such as Cinnamon, Pepper, Nutmeg , Mace, Cardamom, Turmeric & curry powder mixtures.  Other natural food ingredients promoted by the Sri Lankan exporters at the exhibition such as Virgin coconut oil, Coconut protein powder, coconut milk and desiccated coconut were also used for the food preparations during the demonstrations.
The buyers and other visitors to the Sri Lanka Pavilion who tasted the various food preparations highly commended on the fabulous & unique taste of Sri Lankan spices & food ingredients.