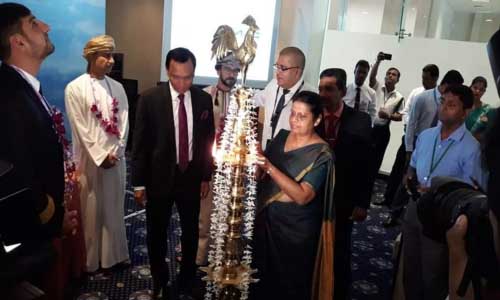 SalamAir , the Sultanate's fastest growing value for money airline, made its inaugural flight to Colombo as a result of its expansion to subcontinents . It began its direct flight service from Muscat to Colombo, on the 25th of November, 2019. The visitors were given a warm welcome upon their arrival by the officials of the Sri Lanka Tourism Promotion Bureau, (SLTPB) Where they also had the opportunity of being escorted through the silk route of the Bandaranaike International Airport, by a traditional dance troupe in which they were highly impressed by the performance. The delegation from SalamAir included Captain Mohamed Ahamed , CEO of SalamAir and crew members and passengers, Sri Lanka Ambassador to the Sultanate of Oman , Mr. Omar Lebbe Ameer Ajwad , Mr. Jumah Hamdan Hassan Al Shehhi, Ambassador for the Sultanate of Oman in Sri Lanka , and officials of the MAC Aviation services Ltd, who operates as the Sri Lankan agent for SalamAir. The Launch was held with a simple celebration by cutting the ribbon and lighting the traditional oil lamp by diplomats, dignitaries from SalamAir & MAC Holdings, SLTPB and AASL. Media institutions and social influencers from the two countries were also present at the occasion.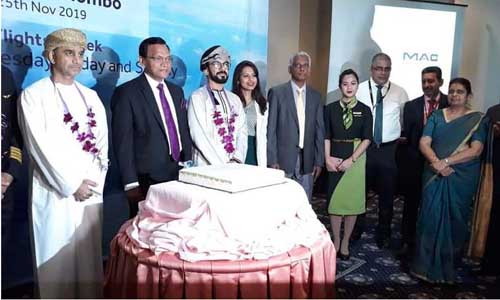 Speaking of the occasion, Captain Mohamed Ahmed, CEO of Salam Air said, '' Salam Air is a very young Air flight which was established two and a half years back. Today Colombo is our 26th destination. This year we'll be carrying 1.2 million passengers and we expect that next year, we'll be carrying more than 3 million passengers around the world. Colombo is a very important destination for us, as you know the relationship between the two countries has been historical. People from Oman, be it International or residents, they always look for Colombo as a nice destination. The flight is not very long, and is reasonably priced. Oman has a vision of tourism and infrastructure for tourism has been developed now and the potential is a lot. So we hope that we'll not only have a few flights a week, but also daily flights between Oman and Sri Lanka.
The Ambassador in Sri Lanka for Oman Mr. Al Sheikh Juma Hamdan Hassan Al Malik Al Shehhi mentioned that the introduction of this direct route was expected to increase the flow of tourists and business passengers, and strengthen economic cooperation including trade, investment, finance, educational and cultural linkages between Sri Lanka and Oman.
H.E Omar Lebbe Ameer Ajwad, Sri Lanka Ambassador to the Sultanate of Oman expressed in his speech, '' I warmly welcome Salam Air to my motherland, Sri Lanka. The relationship between Sri Lanka and Oman dates back to a long history. It's a great opportunity for promotional activities, People to People contact between Sri Lanka and Oman, which will also facilitate trade and business between the two countries. Frequent Air connectivity also will increase the relations between the two countries ''. He added.
Mr. Andre Fernando, Chairman / Managing Director of MAC Aviation Services Pvt Ltd (A fully owned subsidiary of MAC Holdings Pvt Ltd) GSA for SalamAir in Sri Lanka said, "We are delighted to represent a dynamic airline as SalamAir in Sri Lanka. We will be providing a variety of enhanced services to assist the airline and the discerning customer choosing SalamAir as its preferred carrier to Muscat.
An evening reception was also held by MAC Aviation at Cinnamon Lakeside, Colombo, for the visiting journalists and delegation from Oman.
The Muscat –Colombo direct route marks Salam Air's first entry to the Sri Lankan market, which will be most important as it will be beneficial to those who travel on a frequent basis such as migrant workers, business entrepreneurs and also tourists. The Airline now flies also to other destinations including Colombo, Kathmandu, Karachi, Multan, Sialkot and Chattogram (Chittagong), Dubai and Abudhabi. The new route is scheduled to operate four times a week on Monday, Wednesday, Friday and Sunday. SalamAir currently operates three Airbus A320 Aircraft and four Airbus A320 Aircraft and four Airbus A320 neo Aircraft making it the first Omani carrier to utilize the highly rated single aisle aircraft. SalamAir commenced its commercial operations in 2016 with the aim of setting new standards in the aviation industry in Oman. SalamAir meets the country's increasing demand for affordable travel options and aims to generate further opportunities for employment and business creation in various Oman sectors.