The EDB in collaboration with the Sri Lanka Consulate General in Shanghai organized Sri Lanka's participation at the 2nd China International Import Expo (CIIE) held in Shanghai, China from 5th-10th November 2019 which was a great success for Sri Lanka entrepreneurs to explore new business opportunities and strengthen on the existing business. It was also provided the opportunity to showcase the Country's strength in the areas of trade, investment, travel & tourism to the Chinese business community & consumer.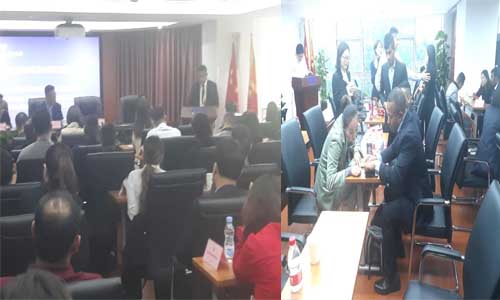 CIIE-2019
The CIIE 2019 is China's second import expo held at the national level. The CIIE was held at the National Exhibition and Convention Centre (NECC) and co- sponsored by Ministry of Commerce of the People's Republic of China and Shanghai Municipal People's Government supported by the World Trade Organization and the United Nations Industrial Development Organization. The Expo was organized by the China International Import Expo Bureau and the National Exhibition & Center (Shanghai) Co. Ltd.
The CIIE 2019 is the world's first import-themed national-level expo. Staging of the Expo started in 2018. The Chinese giant import exhibition, which is held on an area of about 360,000 square meters, includes other activities such as bilateral meetings, investment forums and economic discussions. 155 countries, regions and international organizations, more than 3,900 companies with a total exhibition area of 300,000 square meters, and more than 400,000 Chinese and foreign buyers attended this mega event and explored business deals.
Chinese Market for Sri Lanka
The Chinese economy is developing steadily with a medium-high speed of growth. In the following five years, China is expecting to import goods and services worth more than $ 10 trillion, which provides a historic opportunity for enterprises to enter the huge Chinese market.
Sri Lanka exports to China was 230 million-dollar and China was the ninth export destination of Sri Lanka in 2018 contributing to 2 % of total export earnings of Sri Lanka. On the other hand, China was the second import origin for Sri Lanka with $ 4,120 million worth of imports which accounts 19 % of total imports. The key items of Sri Lankan exports to China include tea, gems and jewellery and diversifying in to other potential product sectors such as rubber products, apparel, coconut kernel products, processed food, etc. This situation has created the need for reducing the trade gap between the two countries by building better market access for the established Sri Lankan export products while diversifying into to other potential sectors.
Sri Lanka's participation at CIIE 2019
Sri Lanka's participation was organized by the EDB in several major events including followings.
Enterprise Business Exhibition
Sri Lanka pavilion at the Food & Agriculture section consisted of 14 companies viz. Kaushalya Organic Industries (Pvt) Ltd , Akbar Brothers (Pvt) Ltd, Ceylon Tea Marketing (Pvt) Limited, Devon Teas Limited, Euro Asia Corperation (Pvt) Ltd , Hero Nature Products (Pvt) Ltd, Imperial Tea Exports (Pvt) Ltd , Lions Management (Pvt) Ltd, Mabroc Teas (Pvt) Ltd, Regency Teas (Pvt) Ltd, Sinolan Tea (Pvt) Ltd , Tea Talk (Pvt) Ltd , Tradlanka Agricultural Enterprises (Pvt) Ltd , World Mart Ceylon (Pvt) Ltd representing Ceylon tea, coconut products, spices, rice & processed products. A company which namely SRI BNB (PVT) Ltd, exporter of latex rubber products exhibited in the Quality Life section.
A big foot print was placed in the massive Chinese food market by the Tradlanka Holdings and Ceylon Plantation & Estate group Ltd by signing an agreement worth of USD 7.5 million to export a traditional variety of Red rice to the Nigbo area in China. Whereas another contract worth of USD 200,000 was signed between a Chinese importer and a Sri Lanka tea company named World Mart Ceylon. Majority of companies exhibits at this event have met their objectives and had opportunity to establish strategic business collaboration.
A market potential was also observed for the coconut and coconut based products for the China Market which is in Food and Beverage export sector.
Business to Business Meeting at the China Council for Promotion of International Trade (CCPIT) and China Chamber of International Commerce in Shanghai (CCIC)
The Sri Lanka Consulate Office and the CCPIT, Shanghai with the EDB organized a Business Forum and B2B meetings facilitating an opportunity for Sri Lanka delegates to meet representatives of renowned Chinese companies from Zhejiang, Jiangsu and Shanghai in China was organized on 4th November 2019 at the CCPIT, Shanghai with the main objective of further strengthening business linkages between Sri Lanka and China.
The EDB made a comprehensive presentation on the business as well as FDI opportunities in Sri Lanka and Mr. Li Zhigang- Vice Chairman of CCPIT highlighted the cooperation between Colombo and Shanghai could be vast given the fact Colombo has been nominated as the sister city of Shanghai. In particular Vice Chairman referred to the services that Shanghai could gain from Sri Lanka on matters related to legal services and arbitrate
The EDB organized the Sri Lanka National Pavilion at the Country Exhibition of the CIIE from 5th to 20th of November with the participation of Sri Lanka Tea Board, Coconut Development Authority, Sri Lanka Airlines and the EDB to showcase the strength of the country in the sphere of trade, investment, travel and tourism. The areas of Sri Lanka apparel, gems & jewellery, Ceylon spices, herbal cosmetic, handicraft products, tourism, travel & cargo and investments were also promoted at this area.
The Sri Lanka cultural performance which was conveyed in the Sri Lanka pavilion and the Central Square depicted the identity of the Sri Lankan culture and tradition and resulted to attract a large audience towards the Sri Lanka National Pavilion.
Hongqiao International Economic Forum (HIEF) and other parallel Forums
Sri Lanka's participation was also organized at HIEF held coinciding with CIIE including five parallel sessions on 5th November. Mr. S.T. Kodikara, Secretary, Ministry of Stratergy Development and International Trade, H.E the Ambassador of Sri Lanka in China, Consul General of Sri Lanka in Shanghai and officials of the EDB participated at this main event comprising parallel forums held in National Exhibition and Convention Center (Shanghai) which organized under the theme of "Opening-up and innovation for win-win Cooperation".
Further, Sri Lanka delegated also attended Chengdu Procurement Signing Ceremony, Business Environment Promotion Conference & Business to Business Meetings held on 4th November and "Interpretation of the New Round of Beijing's Opening-up Policy and Key Projects Signing Event" on 6th November on the invitation of Beijing Municipal Commerce Bureau.
The success of the Sri Lanka Participation in the 2nd China International Import Exposition is a collaborative achievement of Sri Lanka Consulate General in Shanghai, the Embassy of Sri Lanka in Beijing, other stake holder promotional organizations and the Private Sector participant companies. The exceptional support of Embassy of Peoples Republic of China in Colombo is also remarkable in the way of this success.
The EDB envisages organizing the 3rd Edition of China International Import Expo, Shanghai, in order to further strengthen the business relation with China and Sri Lanka which also backed by the fruitful outcomes of 1st CIIE's participation in 2018 with 29 companies and this year's participation.