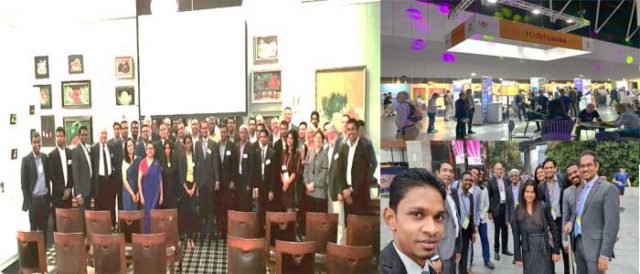 ISLAND OF INGENUITY – SRI LANKA KNOWLEDGE SOLUTIONS
As part of the National Export Strategy's (NES) growth initiatives, Sri Lanka continues to strengthen Sri Lanka's ICT/BPM sector through the Island of Ingenuity (IOI) brand.
As a unified platform for the ICT/BPM sector, the Island of Ingenuity aims to showcase Sri Lanka's innovative prowess in the global arena to exponentially grow industry revenues to USD 5 billion by 2022 from its current USD 1.2 billion, while creating 200,000 new jobs and 1,000 startups.
CeBIT Australia is a leading ICT/BPM-focused exhibition providing a myriad of opportunities for professionals, vendors, service providers and customers to meet exhibitors from across the world and develop profitable business relationships. The event focuses heavily on key topic areas such as information security, cloud computing, AI & business automation, embedded systems, retail IT systems, web & digital marketing, IOT, and mobile solutions, with the exhibition offering a platform to conceptualize the dynamic merger of business with technology, portraying how it can particularly assist Sri Lankan business to grow and connect with people.
As part of these initiatives, EDB in collaboration with the Consulate General in Sydney, organized a Sri Lankan pavilion with a delegation of 10 Sri Lankan ICT/BPM companies at CeBIT Australia 2019. The exhibition which had over 15K participants, took place from the 29th-31st of October at the International Convention Centre, Sydney. It is expected generate USD 1 Mn export revenue and 6-7 joint ventures by 2020 with the leads generate through the exhibition.
"CEBIT Australia was an ideal platform to launch CodeGen's EduTech brand, Cloud Smart School in the international market for the very first time. The acceptance of the overall solution and it features from specialists in the education and employee training sectors confirmed the potential and opportunities we have globally. Being a 100% Sri Lankan product developed and tested extensively, we are positive about the change we can drive to reinvigorate the learning experience through intuitive education technology in the future." commented by Peumi Rodrigo, Manager Marketing and Communications, CodeGen International Pvt Ltd who participated for the exhibition.
Moreover Marlon De Cruz , Chairman, Bistech Global stated "CeBIT provided a great opportunity to meet & engage with many leading technology experts & companies in Australia. It opened the door for many prospects across different industries. It was a great trade show for BISTEC Global to proudly showcase our products and services delivered from the Island of Ingenuity Sri Lanka!!!"
Companies participating in CeBIT Australia engaged in brief coaching session by STAX Inc. – the Sectoral Expert for the ICT/BPM Initiative of the NES – to be educated on areas such as market nuances in Australia, key value propositions and a unified message for Sri Lanka's ICT/BPM sector under the IOI brand.
The EDB introduced 10 companies which included Evensel-IT, hSenid Business Solutions (Pvt) Ltd, Omobio )Pvt) Ltd, CodeGen International (Pvt) Ltd, Afisol Private Ltd, Zkewed (Pvt) Ltd, Peercore Nexgen (Pvt) Ltd, BISTEC Global Ltd and VizuaMatix (Pvt) Ltd. to the Australian market to explore opportunities for bilateral commercial ventures in the ICE sector in Australia.
Under the Economic Diplomacy Program (EDP) of the Ministry of Foreign Affairs, the Sri Lankan Consulate Office in Sydney organized a networking event with 25+ Australian companies for the visiting ICT business delegation from Sri Lanka at the Tattersalls Club on the 30th of October 2019. Consul General Mr. M.H.M.N. Bandara and Consul Commercial Mr. Abdul Raheem spoke during the seminar/information sharing session. The seminar was designed to improve bilateral trade relationships between ICT companies in the two countries and showcase Sri Lanka's knowledge services and technical capabilities for further collaboration opportunities between Sri Lankan & Australian companies.
Sri Lanka's ICT/BPM solutions providers are no strangers to Australia's IT sector, with many Sri Lankan companies are already providing software, mobile, big data and other solutions for leading Australian companies. These lines of business have generated considerable export revenues for Sri Lanka, with industry initiatives such as the mission to CeBIT Australia expected to inject further revenues for the country. The NES will also support ICT/BPM companies through the Champion Builder Program – an initiative aimed at enabling accelerated growth for high-potential ICT/BPM companies through company-level and industry-wide assistance programs. These industry-wide initiatives will primarily focus on driving foreign investments and supporting the expansion of Sri Lankan companies by, for example, launching a 'Captive innovation Center Program', promoting Build-Operate-Transfer models, facilitating infrastructure concessions, and engaging with international agencies to build capacity, among others.