Business & Finance
EDB Organizes Webinar on Market Opportunities in India for Sri Lankan Electronic and Electrical sector Exporters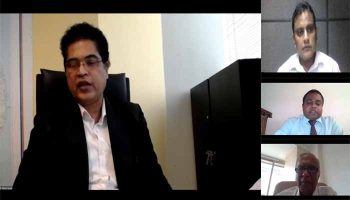 The Sri Lanka Export Development Board (EDB) in association with Sri Lanka High Commission in India organized a webinar to promote matchmaking and market-entry opportunities between Indian and Sri Lankan Electronic and Electrical manufactures with the assistance of All India Electronics Association (AIEA) on 17th March 2021. The online event was focused on achieving synergies between the Electronic and Electrical industries of both countries.
All India Electronics Association (AIEA) was established in 1935 and it is one of the leading industry associations representing the Indian electronic industry, having offices in Chennai, Mumbai, Delhi, and Kolkata, with a membership of around 2500 companies across India. Speaking on behalf of the Association, President Mr. Mitesh Mody remarked that India is now on the path of becoming a major international manufacturing hub for Electronic and Electrical products and systems and soon they intend to become entirely export driven from production of Electronic and Electrical components to finished good. He pointed out that the Indian Electronic and Electrical industry would soon explore opportunities to establish additional manufacturing units in neighbouring countries.
Sharing his insights on the dynamics of the Electronic and Electrical sectors in the two nations, AIEA Vice President – Mr. Nayan Parekh also explained the potential for partnerships and joint ventures between India and Sri Lanka on low-volume, high-precision electronic products such as Internet of Things (IOT) Devices, Airbag Safety Connectors, and Industrial Automation Projects. Parekh lamented that the benefits offered by the Indo-Sri Lanka FTA have not been satisfactorily exploited by the industries of the two countries.
Mr. Manjulal Waas, President – Sri Lanka Electronic Manufacturers and Exporters Association, who spoke on behalf of Sri Lankan Electronic and Electrical sector at the occasion, said they are looking for collaborations in niche areas with their Indian counterparts to satisfy the demand of India. He also said that Sri Lanka can be used as a transhipment hub for further value addition activities by using the facilities available in the country.
EDB Assistant Director – Export Services, Mr. Akila Zoysa provided an overview of the Sri Lankan Electronic and Electrical sector to the participants of the online seminar. Ms. Upekkha Samaratunga, Minister (Commercial) of Sri Lanka High Commission in India pledged the fullest support and assistance of the High Commission to the members of the AIEA to forge business ties and partnerships with their Sri Lankan counterparts.
The members of the AIEA were briefed on investment opportunities in Sri Lanka and incentives available for foreign investors by Mohamed Hafeel Casseer – BOI Deputy Director (Investment Promotion). "Sri Lanka has a highly skilled, versatile, and cost-competitive workforce supported by a robust education system with 15 state universities producing 30,000 graduates per year", he noted. He also described the lucrative tax benefits and facilities in BOI Free Trade Zones to the representatives of Indian electronic companies.
The webinar was well attended by around 70 participants representing the Electronic and Electrical manufacturers in India and Sri Lanka. The EDB is hoping to organize a series of B2B sessions for Sri Lankan Electronic & Electrical sector companies with interested Indian companies in the near future for the betterment of the Sri Lankan Electronics and Electrical Sector.