News
Island-wide Deegawapiya 'Sacred relics' exposition begins from Kelaniya Temple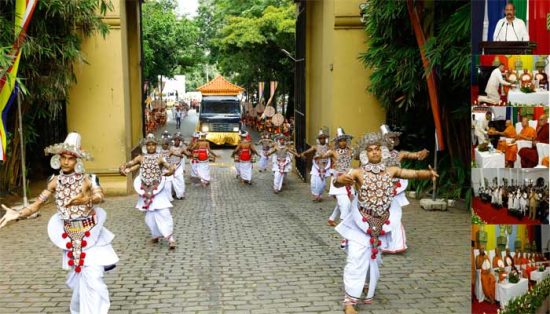 Procession carrying the 'Crest-Gem' and the 'Sacred Omniscient Relics' of Deegawapiya Stupa which is scheduled to move around the island, for public veneration, arrived at the Kelaniya Raja Maha Viharaya, signifying its commencement amidst religious blessings, 29th of August.
State Minister of Defence Hon. Premitha Bandara Tennakoon was present as the Chief Guest at the invitation of Gen. Kamal Gunaratne, who is the 'Author of the Deegawapiya Aruna Trust' and the 'First Trustee' and also the incumbent Defence Secretary.
The inauguration of this 150-days-long exposition of the Deegawapiya revered articles and the procession travelling around the island, auspiciously commenced at the Kelaniya Raja Maha Viharaya premises saw a colourful pageant, amidst the blessings of Chief Incumbent Ven. Prof. Kollupitiye Mahinda Sangharakkhitha thero.
These sacred articles will remain at the Kelaniya Temple until Sep 03 for public veneration and devotees are invited to witness and pay their homage during this rare exposition. Proposed 'Crest-Gem' has embedded 2800 precious stones and these sacred relics are those unearthed from the Deegawapiya site during excavations.
Gen. Gunaratne during the session recalled the support of President Hon. Ranil Wickremesinghe in his capacity as the Defence Minister, for this mammoth project.
Ven. Maha Sanga including Chief Prelate of Na Uyana Monastery Ven. Angulgamuwe Ariyananda, Chief Prelate of Deegawapiya temple Ven. Mahaoya Sobitha and Chief Incumbent of Sri Sambodhi Viharaya Ven. Boralande Vajiraghana theros conducted the religious sermons.
Army Commander Lieutenant General Vikum Liyanage, Navy Commander Vice Admiral Priyantha Perera, IGP CD Wickramarathne, Director General of Civil Security Department Air Vice Marshal Roshan Biyanvila, Arthur Senanayake who is a devotee and a patron of the sacred construction, staffers of the Defence Ministry and Department of Archaeology, senior state and military officers, invitees and a large gathering of devotees were present to witness the event.