Top News
Travel & Tour
Leveraging natural resources for Biodiversity Financing through Eco-Tourism initiatives
Eco-Tourism Awareness Programme for Tour Guides and Tour Operators in Dambulla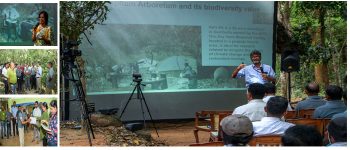 As one of the World's 36 biodiversity hotspots, Sri Lanka has the highest biodiversity per unit area of land among all Asian countries. Protecting our unique and diverse ecosystems is vital in the fight against accelerating climate change and as an indicator of the health and resilience of the environment. Along with protecting Sri Lanka's biodiversity, we must look at the economic aspects of biodiversity conservation and livelihood management. To ensure the sustainability of managing biodiverse locations such as national parks, arboretums, bird parks and wetlands, it is necessary to explore innovative methods of raising financing.
Tourism is an effective method of leveraging and mobilizing available natural resources for biodiversity financing. Accordingly, the United Nations Development Programme (UNDP) in Sri Lanka supported the Biodiversity Secretariat of the Ministry of Environment (MoE) in Sri Lanka to conduct an awareness programme for tour guides and tour operators to promote eco-tourism in Dambulla at the NIFS-Popham Arboretum. This programme was conducted recently as a part of the "Environment Week" declared by the MoE to celebrate World Environment Day on 5 June. As such, 2 June was named Biodiversity Day, and the awareness programme was conducted in honour of this.
Given the ongoing economic crisis in Sri Lanka, reliance only on state funding for conservation and protection is simply not sustainable. Accordingly, exploring methods of achieving financial sustainability for biodiversity conservation is vital. The sustainable use of natural resources and biodiversity for livelihood and income generation is one such method of ensuring conservation whilst empowering communities in the surrounding areas.
An arboretum is a botanical collection composed of a wide variety of species and trees. The NIFS-Popham Arboretum is situated 2.5 km away from Dambulla and was gifted to the National Institute of Fundamental Studies (NIFS) in 1989 to carry out research and educational activities. This arboretum hosts many local and foreign researchers for ecological research purposes and is a popular tourist destination due to its unique biodiversity. The arboretum has rich vegetation of over 200 plant species and a variety of unique fauna to be found, and it acts as a restoration site for valuable and endangered indigenous forest species.
There is significant potential for the arboretum to be further developed as an eco-tourism destination as it hosts many activities such as day and night safaris, camping, and offers other lodging and research facilities. The MoE has planned to develop this arboretum into a profitable and sustainable eco-tourism venture, whilst ensuring the maintenance of its unique and precious ecology. Speaking at the workshop, Dr. R. D. S. Jayathunga from the Ministry of Environment stated, "Biodiversity in Sri Lanka has faced many challenges. Eco-tourism has been identified as a major area to promote the conservation of biodiversity… It contributes to community development."
UNDP in Sri Lanka and the European Union (EU) have come together to support the revitalization of Sri Lanka's Tourism Industry together with the Ministry of Tourism. With the overall support provided through the 'Transforming Tourism in Sri Lanka: Emerging from crisis as a strong, resurgent and rebranded industry' project, this awareness programme was only a step in developing this arboretum as a tourist experience, and it aims to provide tour guides and operators in the area with the knowledge to promote it as a sustainable nature-based experience. The participants were enriched with knowledge of the arboretum's biodiversity value, the role of a tour guide in eco-tourism practices, and eco-tourism opportunities in the arboretum, with space provided for guides to share their ideas and experiences as well.
Commenting on the EU's overall support to the Tourism Industry, Ms. Harshani Halangode from the EU stated, "with the valuable partnership with UNDP, we aim to revitalize and transform the tourism industry into a resilient, sustainable, and intrinsic sector. We are pleased to help upscale tour guides and tour operators in the area, supporting livelihoods, providing skills development for youth, and supporting rural communities".
The collaboration between the EU and UNDP signifies the critical importance of tourism to Sri Lanka's economic recovery at this critical juncture. Speaking on the partnership, Ms. Malin Herwig, Deputy Resident Representative of UNDP in Sri Lanka stated, "In close partnership with the EU, we are working to protect natural and cultural assets, so that they are protected for tourism, and other needs and sectors. With the generous support of the EU for the Transforming Tourism Project, we are building initiatives to lay the foundation for more investments in an innovative and nature-based tourism sector".
The Transforming Tourism Project aims to address the urgent needs of the industry, strengthening the institutional framework and capacity to set it on a trajectory for a greener, more resilient future with a focus on such initiatives targeted at biodiversity conservation through the sustainable use of natural resources for livelihood and income generation.