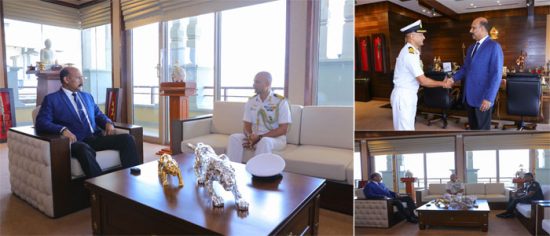 Defence Adviser of the High Commission of India for Sri Lanka Captain Vikas Sood paid a courtesy farewell call on Defence Secretary General Kamal Gunaratne at the Defence Ministry in Sri Jayewardenepura, Kotte yesterday (Oct 16).
Gen. Gunaratne welcomed Capt. Sood and had a friendly interaction with the departing envoy who conveyed his appreciation to the Defence Secretary for his cooperation and goodwill throughout the bilateral encounter in Sri Lanka throughout his tenure.
Long-standing friendship between India and Sri Lanka was also recalled during the session highlighting the importance of further deepening of such goodwill and ties. Gen. Gunaratne also wished him the best of luck in his future endeavours.
The Defence Secretary presented a souvenir to the outgoing Indian Defence Adviser to mark the occasion attended by the Defence Ministry's Deputy Military Liaison Officer Brigadier Nadeeka Kulasekara.