News
Pakistan Chief of Naval Staff meets SL Defence Secretary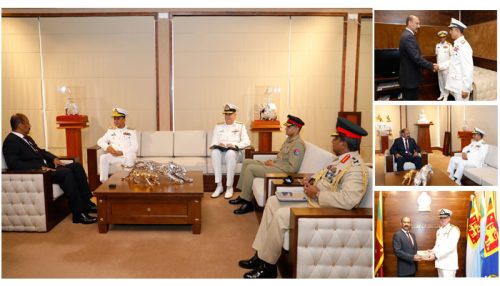 Pakistan Chief of Naval Staff  (CNS) Admiral Muhammad Amjad Khan, NI (M), S Bt who is currently in Sri Lanka on an official visit met the Sri Lankan Defence Secretary General Kamal Gunaratne on 27th February at the Defence Ministry in Sri Jayawardenepura Kotte.
On behalf of the Sri Lankan military, the Defence Secretary extended a warm welcome to the visiting naval delegation of Pakistan led by Admiral Khan at the Defence Ministry and had a discussion where a wide range of important topics was taken up for conversation.
Gen. Gunaratne, while recalling the long-standing friendly ties between the two countries, appreciated the continuous relationship maintained by Pakistan both at good times as well as difficult times and further assured the continuous exchange of training opportunities between the two countries.
During the discussion, Pakistan CNS, Admiral Khan appreciated the warm hospitality received throughout their stay in Sri Lanka and he underlined the importance of further maintaining the existing strong cooperation.
The Pakistan high official remembered the fullest support of Pakistan during the past and assured to extend Pakistan's continued assistance to Sri Lanka in future as well.
The cordial discussion drew to a close with an exchange of mementoes between the two defence high officials to mark the occasion.
Military Liaison Officer of the Sri Lankan Defence Ministry Maj. Gen. Dinesh Nanayakkara and Pakistan Defence Advisor in Sri Lanka Col. Muhammad Safdar Khan were also present at the meeting.