Travel & Tour
'' Race the Pearl '' concludes with the French –British domination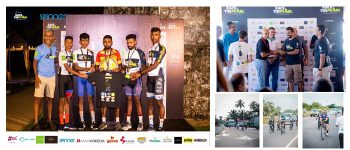 The fifth edition of Race the Pearl, the 24-hour race that covers the entire length of 600 kilometers of Sri Lanka from top to bottom, concluded on 6th Nov 2022 successfully with Toby Read from UK Winning with the timing of 23 hrs and 06 minutes and Frenchman Fabrice Linon coming second with timing of 23 hrs and 46 mins . Among the Sri Lankan riders Gopi Thuraisingam clocked in at 24hrs and 22 mins . Race The Pearl was organized by Spinner Cycling, the organizing and mechanical partner of Ironman 70.3 Colombo and Around the Pearl in 10 Days, and was further endorsed and supported by the Sri Lanka Tourism Promotion Bureau with the purpose of promoting sports tourism and also and further promoting #visit Sri Lanka and # Save the Sri Lankan smile campaigns # to the world through the cycling experience.  Over 60 riders participated at this event including UK, USA, AND France, along with the local riders. The race covered 600 kms within 24 hours, while being a qualifier for the upcoming RAAM (Race across America) a globally renowned ultra-distance road cycling race that covers over 4,800 kilometers of the USA from west coach to east coast.
During the entire 24 hour race the cyclists had to go through several challenges such as battling the weather conditions and facing multiple elephant encounters while pushing through the final part of the race in the night. The race set off from Point Pedro to Dondara head, the southernmost tip of Sri Lanka.
Thus the event concluded with the positive message conveying that Sri Lanka is not only a destination which offers the best of travel opportunities for an enthusiastic traveler, but also an ideal location for Sports and adventure activities.